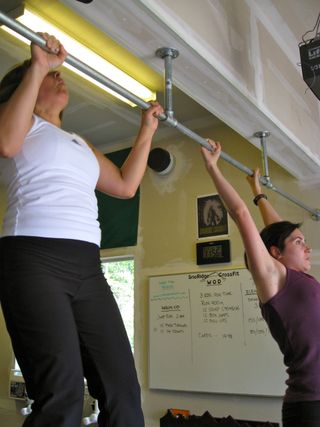 Today was our first day back from California and we borrowed this WOD from our visit to CrossFit Centurion.
After Warm-up:
Deadlift 3×3
3 Rounds for Time:
400m Run
12 Sumo Deadlift High Pull (SDHP) 95#/65# 
12 Box Jumps
12 Pull-ups
Everyone's pull-ups are moving along nicely.  Jumping pull-ups are more powerful with full ROM (range of motion), some have "graduated" to less assistance on the bands, and Curtis got his first rx'd pull-ups today in one full-round of the WOD! We will focus more on these later in the week with pull-up ladders and kipping instruction.
Notes: 
I also wanted to congratulate my brother Jim and six of his fellow soldiers from the Texas Army National Guard who all were Level 1 Certified this past weekend at
Alamo CrossFit
in San Antonio, Texas. This group will become the core cadre for leading CrossFit PT for their units at Camp Mabry in Austin to ensure that those who protect our freedoms are at their fittest. 
Camp Mabry National Guard Level 1 Coaches and their CFHQ Cert staff: