Choose and remember:
"343" honoring the 343 firefighters who died on 9/11.
For honor and respect of the fallen:
100 Deadlifts (145#/105#)
100 Power Cleans (95#/65#)
100 Ground to Overhead (65#/35#)
43 Burpees
 
Men use a 45# bar, Women use a 15# bar
First plates on the bar are 10#, then 15#, then 25# per side
Strip the outer plate after each lift of 100 reps is completed
Post total time
OR:
2001m Row
11 Box Jumps (36″/24″)
11 Thrusters (125#/85#) * Deaths at the Pentagon
11 Burpee Chest-to-Bar Pull-ups
11 Power Cleans (175#/120#) * AA Flight 175 South Tower
11 Handstand Push-ups 
11 Kettlebell Swings (70#/53#)
11 Toes-to-Bar 
11 Deadlift (170#/120#) * Flight 77 and Flight 93
11 Push Jerk (110#/75#) * Number of Floors in each Tower
2001m Row
Results
View this photo
View this photo
Quote of the Day: "Valor is a gift. Those having it never know for sure whether they have it till the test comes. And those having it in one test never know for sure if they will have it when the next test comes." ~ Carl Sandburg
Today Coach Mark (pictured below, far right) paid tribute in a unique and very impressive way. He was one of only 3 Firefighters that participated in the 9-11 Memorial Stair Climb in Seattle that climbed 110 flights in full gear AND on air (55 flights twice!).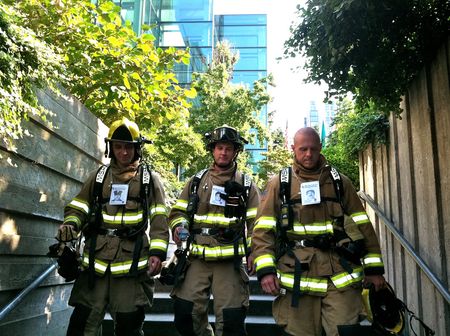 Remember 9/11 and hug those you hold dear, thankful that we are able to share with each other that which truly makes our nation great. Freedom.