Main Class WOD:
For time:
21 Deadlift (225#/135#)
800m Run
15 Deadlift
800m Run
9 Deadlift
800m Run
Results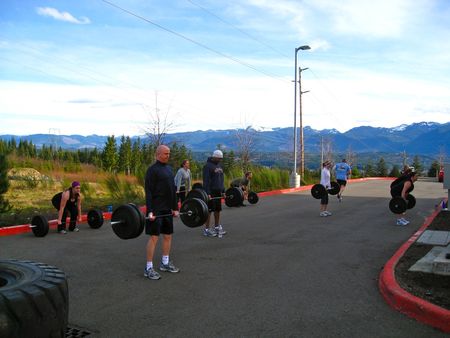 Affiliate Team WOD #(1):
For time:
21 Deadlift (225#/135#)
800m Run
15 Deadlift
800m Run
9 Deadlift
800m Run
Affiliate Team WOD #(2):
As Many Rounds As Possible in 10 Minutes:
4 Pull-ups
8 Knees to Elbows
16 Tire Sledgehammers (12#/16# alternating sides)
Results
Hammer time! Mark and Don with WOD#2 extra credit after the deadlift WOD: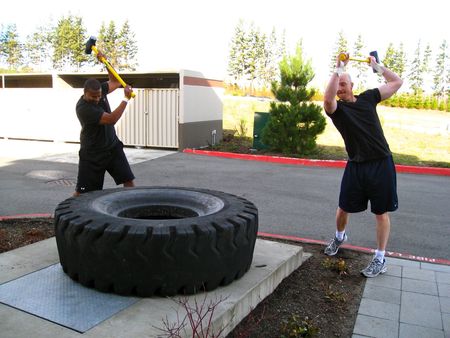 Everyone rocked the deadlifts today! Great weather = great opportunity to get some heavy weights outside. Moving all the classes out to the fresh air and mountain view is fun for us and also motivating with a backdrop that simply can't be beat when the skies are clear. Plus training in the elements is part of constantly varied, getting ready for the unknown and unknowable or "training as you fight". Is it fun for you when we all go outside? Post thoughts to comments.
Notes:
We want to thank every one of you who came to the lululemon Trunk Show as well as all who brought food and drink. We hope all of you had a really good time and opportunity to get together with the ladies! Special note of thanks to Bonnie for the highly creative and cool WOD Wine Label. If you haven't seen it, check out the bottle in the gym or in the Flickr photo album. It says: "WOD Wine: AMRAP – 20 Awesome CF Chicks, 1 Killer SRCF Box, 1 lululemon Junk for Your Trunk Show".
The Nutrition Discussion with Todd Widman is next Friday at 6:30pm and then next Saturday we kick off the Paleo Challenge. Cost is $10 and so far we have 22 people confirmed as coming so if you have not confirmed either by posting to comments, emailing, or on the Facebook event let us know. There are several of you who we haven't heard from. You better have a good excuse or I am going to drive to each of your houses and drag you back to the box!
Food for thought:
How to Win Friends and Influence Paleo
Wanted to finish with some really cool pictures of some strong ladies!