Set up before a clock, and every minute on the minute for a minimum of 10 minutes perform:
4 Hang Power Cleans (95#/65#)
20 Air Squats
Can you continue for 12 minutes? 15 minutes? Get to 20? (WOD Capped at 20 minutes) Record rounds and partials completed in 20 minutes or less.
Rules:
* Must complete 10 minutes (or 10 rds.) minimum
** If you fall behind the clock continue to ten rounds. For each round not completed within the 1 minute window (up to 10 min.) you must perform 10 burpees/min. penalty after the WOD. 
*** Get past 10 minutes and add weight to the bar for Hang PC 
Results
View this photo
View this photo
  Happy Birthday Bonnie! We hope you enjoyed your brutally fun WOD and that you had a wonderful birthday. 
Hang Power Bonnie Cleans for time: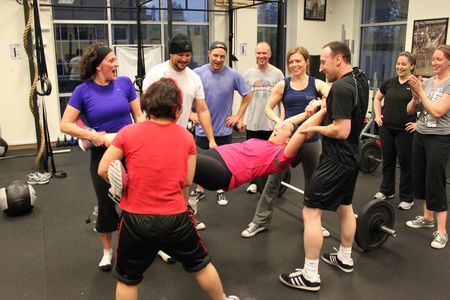 Bonnie and her Birthday crew at the 7pm WOD: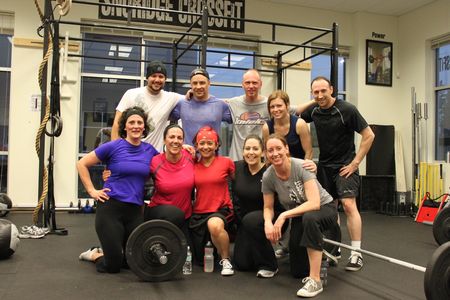 Today I learned firsthand that you all are either a bunch of insanely fit gladiators in training or that a few of you are really extraterrestrials hiding on our planet…
Why? Well, the morning groups broke the WOD (as Jeremy D. coined it)! You broke Bonnie's birthday WOD! The goal was that the hang cleans and squats would creep up and take longer and longer and that at around 15-25 minutes max all would be done. Instead I now have actual proof that aliens live among us. It is inhuman to think that someone could go for 40 minutes of this and yet Mark B. did just that. He just kept going and going… Others too reached some pretty high numbers. So we made an adjustment midday and set a 20 minute cap and added that after 10 minutes you must add weight to the barbell. We then did this WOD with the late classes and it proved a good adjustment. How much you added was on you, and that made the difference. Going heavier definitely made it a new challenge. Speaking of aliens, I failed to mention that Pat and Jeremy O. completed the Horrible Hundred yesterday. That would be two times through the Filthy Fifty over an early AM class and a late PM class! 
Coaching Tip: When performing an air squat start with your feet underneath your hips or slightly wider. Let your toes naturally angle outward and not straight ahead. Initiate the squat by sending your hips back as your hands come out and up to force the chest high while looking through your hands. Keep your weight on your heels and maintain a tight core and lumbar curve. Squat low enough to ensure your hip breaks below the line of your knee. Keep your knees behind your toes and drive your heels into the ground as you rise up out of the bottom. Maintain a steady neutral gaze throughout. Pull your hands back to the side and stand up fully to open the hips to full extension.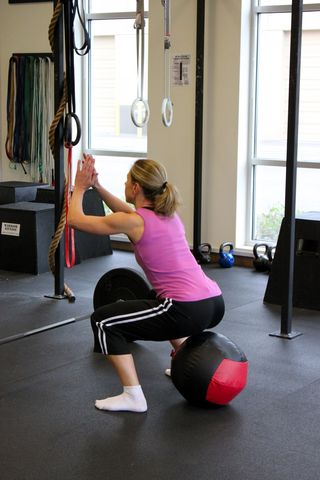 Notes:
Mark communicating with the Mother Ship after completing his mission of destroying the WOD: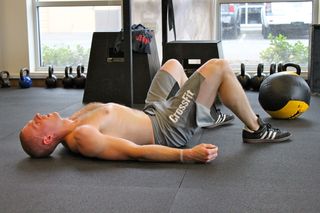 Look for the "Parallette Shoot-Through" with Jeff Tucker coming to a box near you: [wmv] [mov]