As Many Rounds As Possible in 15 Minutes of:
12 Push Press (75#/55#)
10 Box Jump (24″/20″)
Results
Eric (above and below) from CF West Seattle dropped in today for a WOD and crushed it! Nice work! 
Here's the aftermath: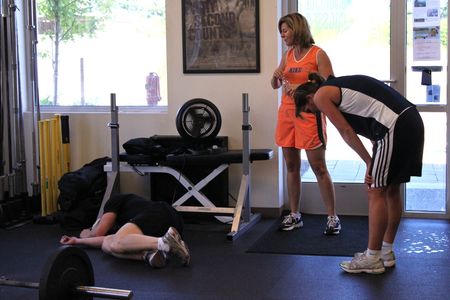 Talk about CrossFit! Read about how a woman fought off an attacker and what she credited for being able to do it.  The Power of Fitness: Real Women Share Their Stories"
The weather is getting nicer. I think it's a great excuse for some sandbag training real soon!
Notes:
It's that time of year where vacations start piling up! 
JULY CLOSURE SCHEDULE:
No 6am classes

on Tues. 7/13, Thurs. 7/15 and Tues. 7/20

Closed completely

on Fri. 7/16, Sat. 7/17 and Mon. 7/19
On those days that we are closed completely we will be at the CrossFit Games. We will post some WOD's for you all to do either at home or get together outside the box or at a local park.