Main Class:
In teams of 2 complete AMRAP in 20 minutes of:
3 Squat Clean Thrusters (135#/95#)
6 Chest-to-Bar Pull-ups
9 Box Jumps (24″/20″)
12 Deadlifts (135#/95#)
15 Mountain Climbers (2 count)
* Alternate each movement with your partner. i.e. Partner A does clean thrusters, then partner B does pull-ups, then A does box jumps…and so on for 20 minutes.
Advanced RX Class:
Strength WOD:
1-1-1-1-1
Snatch Balance
Conditioning:
For time:
2 Muscle-ups
10 Clean & Jerks  (135#/195#) 
4 Muscle-ups  
8 Clean & Jerks (155#/105#)
6 Muscle-ups
6 Clean & Jerks (185#/120#)
8 Muscle-ups  
4 Clean & Jerks (205#/135#)
10 Muscle-ups
2 Clean & Jerks (225#/150#)
* Sub 1 C2B pull-up and 1 Ring Dip for 1 MU. Change loads as you go.
Results
View this photo
View this photo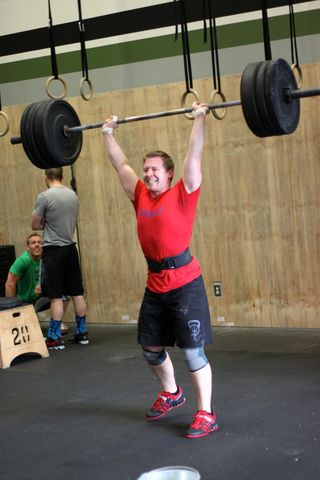 Yesterday's WOD's for both classes were climbs. The team WOD was a climb both in reps and in mountain climbers, and it looked like a 20 minute grind with your partner. The advanced class was a scheme that got heavier and harder the farther you climbed in muscle-ups and loads for the clean and jerks.
Lowering the Bar Safely in the Snatch, Clean and Jerk by Catalyst Athletics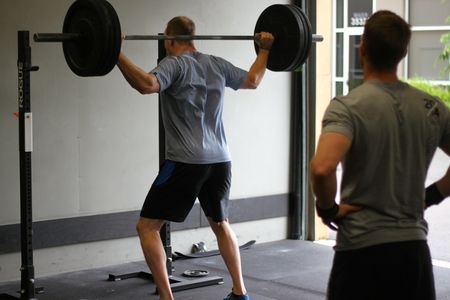 Congrats to Moe and Lou who competed as a team yesterday in the Whiskey Throttle Throwdown II in Woodinville at CrossFit Nine!
25 Days and 20 something hours remaining until the 2014 CrossFit Games! We can't wait to go on our 6th annual Games-cation. This year we are fortunate and extremely grateful to all of our coaches to be able to have a very minimal impact to our class schedule over the duration of the Games. It is looking like the only change will be no advanced RX class for July 26th, with all other classes being a "go"! 
Sub-3 Minutes with Rich Froning and Dave Castro