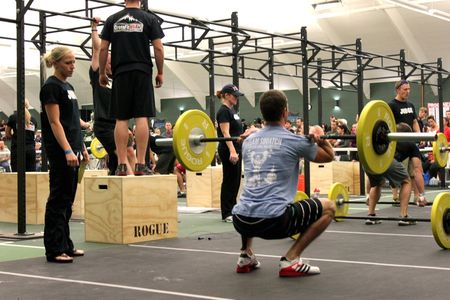 The CF/USAW Open event held this past weekend in Colorado Springs, CO consisted of the following:
Snatch 1 rep
Clean and Jerk 1 rep
"The Triplet" 10 Minutes Immediately After:
As Many Rounds/Reps As Possible in 10 Minutes:
6 Squat Cleans (55kg/30kg)
12 Pull-ups
24 Double-Unders
Combine the best of each lift and total of Triplet reps for a Total Score.
Sean completing the Total and the Triplet at the CrossFit / USAW Open in Colorado Springs: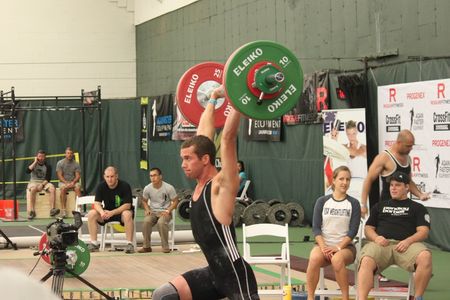 It's in the books! Sean went and competed in the 85kg Men's class and turned in a performance of heart and determination that should make all of us at SnoRidge proud! He posted a total of 179kg in the two lifts and 180 reps in the Triplet for an Event Total score of 359, placing 23rd in his division (out of 27). He is officially a badass in my book for having the Cajones to step in front of a crowd and face the stresses of performance, competition, work capacity, and altitude. Congratulations on an incredible job and for persevering under tough circumstances. Scoring a total including a bodyweight snatch is damn impressive.
The event was spread out by weight class over three days. The field consisted of 165 competitors (61 Women and 104 Men). However this field of competitors contained beasts of all sizes. Men and Women's divisions included previous CrossFit Games competitors, past Games champions, and top regional performers. Olympians, medalists, USAW National Team members and Olympic lifters of both experience or reputation. Some names were truly big ones for their respective communities. It was also made up of CrossFitters and Oly athletes who were brand new to either competition or the opposite of their chosen sport. All of these athletes put on the first combined USA Weightlifting and CrossFit event of its kind. It was extremely well run and organized overall and the location was well suited for both athletes and spectators. Besides the soul sucking effects of high altitude there were no major complaints.
I was honored to be Sean's coach for this event and it made me reflect at several points throughout the weekend about my role and what Sean was preparing for. Knowing his capabilities and previous PR's and lifts, as his coach it was going to be a tough task to balance the desire to make a PR lift with the prospect of staying a little lighter so that the initial lift could go up on the board successfully. Keeping him loose, prepped, positive, and confident in what he was going to do was really fun for me. For anyone who has been part of an individual athletic competition, it is far different from team sports. In team sports you can always rely on the performance of the team. Sure you will be on the spot at times in the game, but the pressure of competition and judging is shared. In an event like this, you are exposed for all to watch. In front of your friends, family, loved ones, fellow athletes, and strangers you are in the spotlight. Alone, you must make the lift or face failure. What you do is solely resting on your shoulders; literally in the case of an Olympic lifting competition. 
Pushing through a WOD like the Triplet is the same thing. Like any CrossFit competition, you have to go beyond comfortable and stay there; pushing through a constant state of pain, anxiety, fatigue. You must do it in front of people, as well as with a judge who is there to score your reps and take some away. This is hard to do. You aren't in the safety of your box, counting your own reps. There is an audience, the set up is unfamiliar and the other athletes are surely as good if not better. They all want to beat you and beat each other. The intensity takes on a higher level and the prospect of finishing low or last pushes everyone to better results.
Factor all of the above in and what Sean did this weekend can be summed up in one over-used but perfect word: EPIC. 
Well done Sean, keep doing epic shit!
Notes:
Two new events coming in October and November:
Video I shot of Olympian Chad Vaughn with a 141kg Snatch at the USAW/CF Open: