Post WOD Box of Awesome: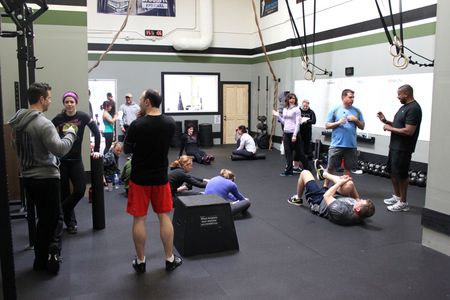 Enjoy your Sunday Funday!
Drop-In's and "Bring a Friend" Policy:
We love it when you want to bring a friend or family member to check out CrossFit. It's an easy way for someone to come in and see what a class and WOD looks like and get a feel for CrossFit, the box, our community and our coaches. We encourage it and if they don't mind sitting and watching usually they can learn a lot while the class is going on. Coming in and watching is ALWAYS welcome!
We also love it when your friend or family member wants to try a WOD; BUT need to advise that if you have people who want to workout and are brand new we need for them (or you) to contact us in advance to determine when the best day or class times are to show up. Not every class or WOD is best suited for a brand new person to drop in. When someone new just "pop's in" for a WOD, it takes time from the coach to get them oriented, waiver signed, and basic instruction that takes away from the rest of you who are there for the WOD. With no advance notice this catches your trainers off guard and doesn't allow us to be properly prepared. This puts the new person in a 1:1 scenario and detracts from the attention of the coach to the rest of the class, creating a subpar environment in our view. 
Sometimes it's busy. Sometimes the WOD uses a lot of equipment and space. Or sometimes the movements in a WOD are advanced enough that stopping to teach an air squat or jumping pull-up to a brand new person off the street means the class doesn't get the instruction they need. Other times it's easy to accommodate and the workout of the day is easily scalable and configured to that new person. We have a pretty standard workout we can give to new folks that is pure CrossFit, bodyweight, and easily coached. If we are ready for someone new to come in then we can organize the instruction during the warm-up and keep things running smoothly.
So with that said we ask that if you have anyone you know that wants to try a WOD then just follow these simple steps:
You arrange it with us or have them contact us in advance
We will arrange a class time(s) that works best
We will let the appropriate coach of that class know
They show up and we will take it from there!
Caption This Photo: