Creepy Combination for time of:
400m Run 
21 Kettlebell Swings (53#/35#)
12 Pull-ups
400m Run
15 Overhead Squats (45#/35#)
30 Wallballs (20#/14)
2 Rounds of Cindy: (5 pull-ups, 10 Push-ups, 15 Squats per Round)
50 Push Press (45#/35#)
50 Walking Lunges 
Results

View this photo
View this photo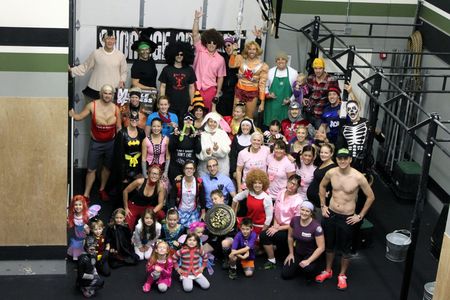 The Frankenchipper is a combination of benchmark "Girls" WOD's. Like Frankenstein it's part "Helen", "Nancy", "Karen", "Cindy", and Filthy Fifty. This WOD is a quick gasser that's light but challenging. More so when you have a costume on. We had a big crowd of 5 waves all in costumes and ready to rock on Saturday. We even had two clones of Michelle and I that were spot on!
I got a mail today from Kandahar CrossFit (who I have been in contact with recently and helping design a specific month of programming for the troops over there) and was stoked to hear that 1) they will be using our "Frankenchipper" workout on Halloween and 2) they will be using my month of programming I sent to them for the month of December. Awesome news!
We also had our 4th annual Halloween party at our Castle last night. Open to the whole box; we had a big turnout of pretty much everything you could think of for a costume (or not think of). All of you were entertaining characters and hopefully had a good time. Count Tomula and Countess Shelvira had a blast hosting, drinking and eating paleo and faileo food with all of you. Thanks for coming! By this time next year we may be ready to open the Castle for another round.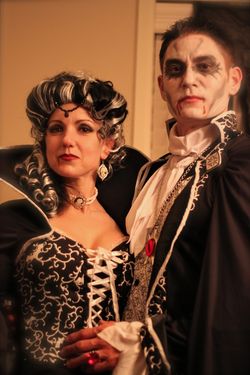 REMINDER: NO PM Classes this Wednesday 10/31. Classes at 0830, 0930 and 1130 only. Happy Halloween!
Sincerely, Your Coaches (minus Moe)