ATTENTION: Schedule Change:
For the next 6 weeks (3/19 to 4/23) the regular Saturday Class will be 9:30am to 10:30am!
CF Games Open: 3-2-1 Go!
2011 CrossFit Games Open Process and Schedule:
Dates and Schedule: The Open begins Tuesday March 15th at 5pm PST 

Open runs for 6 weeks: 3/15 to 4/24
Each Tuesday the WOD is announced for the week (Tues 5pm to Sun 5pm)
Athletes have two basic options: Film each WOD on your own with a judge or go to a registered CF Affiliate and be judged
Enter your results to a website that ranks everyone by region and the world

Top 60 men, 60 women, and 30 teams advance to compete in the Northwest Regionals at the Puyallup Fairgrounds (June 10-12)

NW Region is comprised of WA, OR, ID, MT, WY, AK

Top Regional competitors worldwide advance to the 2011 Reebok CrossFit Games at the Home Depot Center in Carson, CA to compete with a $1M total purse
Registration: All athletes must register on the Open site (link below) NLT than 3/15

After registration join the team "SnoRidge CrossFit"
WOD's must be done "As RX'd" each week or you are OUT of the running!
Each person's score will help the Team!
Cost: Open is $10 per athlete
SnoRidge CrossFit Team Squatch Participation and Rules:
Schedule: 

Each Wednesday

the WOD for the box

will be the CF Games Open WOD

for that week 
Competitors have the following options to officially complete the WOD for the week:

Wednesday 6-8pm 
Friday 5-7pm (Saturday Alternative)
Saturday 11am-1pm

Make-ups for emergencies as they arise, please adjust your schedule for the next 6 weeks
Judging and Results: 

You will be assigned a judge if you are a competitor

Judging to strictly follow the standards that CF publishes for each WOD
No-reps and corrections will be clearly communicated for the athlete to correct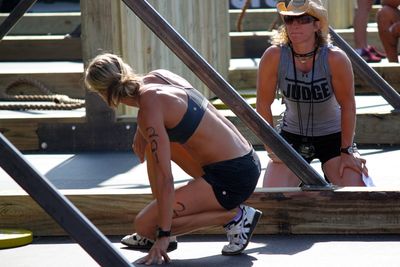 Non SRCF Athletes:

non-SRCF athletes registered for the Open are welcome each Friday during the 5pm/6pm class times
Judging will follow above guidelines
MUST pre-register with us via Mindbody online or email in advance to complete the Open WOD for the week
Drop-in fee of $15 per WOD
Fans:

Register as a fan for free and you can customize your experience on the site to track athletes/teams and to comment on articles, videos, and photos
Resources: 

Enjoy the next six weeks, train hard, have fun and cheer each other on: