Partner up and complete 7 Rounds of max reps of each of the following exercises:
One partner runs (400m for men/250m for women) while one works.
Dumbbell Ground to Overhead (35#/20#)
Wall Balls (20#/14#)
Double-Unders
Kettlebell Swings (53#/35#)
Toes-to-Bar
Lateral Burpees (Over parallette)
Sledgehammer Tire Swings
* Rest 30 Seconds between rounds. Alternate who runs first and score total reps and reps per exercise.
Results
Lindsay ready to rumble with her partner: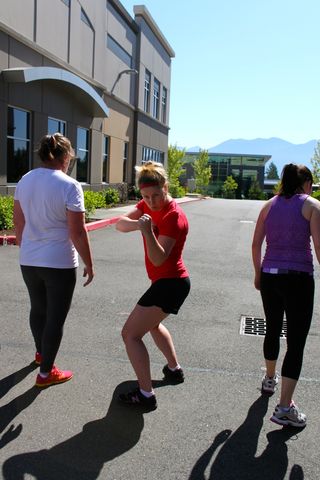 Happy 4th of July everyone! This tag team partner workout was a gasser and had it's own fireworks after a few rounds for everyone. Hope everyone was safe and enjoyed the Holiday. Sorry for the late post but I was suffering a combo of sinus/head cold attack and campfire S'mores overdose.