Happy Birthday Jorge (or Hee-hey)!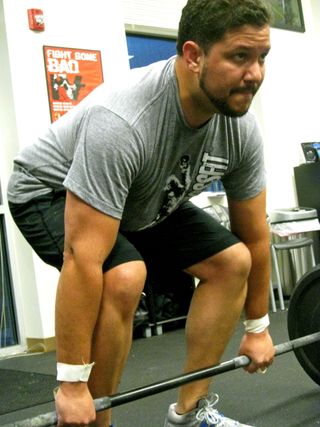 Pick your poison:
For Time:
5000m Row
Or:
"Fran"
21-15-9 reps for time of:
Thrusters (95#/65#)
Pull-ups
Results
The choice today was simple; short vs. long, cardio respiratory endurance and stamina vs. speed and power. Both WOD's are epic in scope and very effective. I programmed the choice of two because Jorge has long threatened or begged to be able to have the "opt-out" to do Fran or a 5k row over any particularly unpleasant WOD he didn't want to do. Over time we granted him two "Get out of jail free" or "Ace" cards that he theoretically would be able to play if he chose to do so. 
Jorge also has been sweating a little just what I would plan for his birthday workout, knowing I would include something he hates (running or burpees) with something he likes. So he kept saying if he didn't like his birthday workout he would just pull one of his "cards". In the spirit of April Fool's yesterday I decided to post a fake WOD on Beyond the Whiteboard today consisting of his most hated exercises: 5 rounds of 400m runs and 15 burpees. I just knew he would check it today to preview the WOD before he came in. Knowing it was going to be storming and pouring down rain it could not have been a better set-up. I think I actually heard his screaming from his house when he checked the workout this morning. I know Jana sure did. The real workouts were actually his two "Ace" cards and the plan that everyone would get to choose what they wanted to do. 
There were several PR's today for Fran as well as 1st timers for both WOD's. Congrats to all of you especially the personal bests. The energy at the 5pm class with Moe was intense and motivating as people were just going after it. Bridget and Pat were exceptionally impressive or insane depending on your point of view. They did both WOD's! WTF!
Congrats Jorge on an excellent birthday and we are glad you liked your present! You now have one less "Get out of jail free" card. Use it wisely.
Jorge expressing his feelings about his choice of the 5k Row: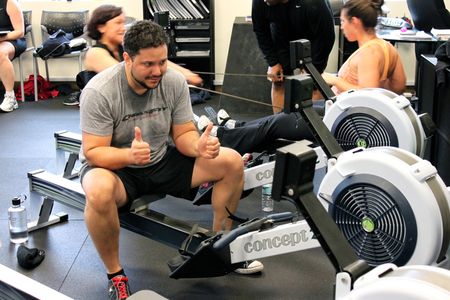 Notes:
Saturday classes (10am and 11am) will be indoors so have no fear about the weather conditions. Affiliate Team members meet at 9am. Next week we will begin testing for Team Squatch spots (3 women and 3 men) beginning Saturday.
We are going to have a sign-up sheet in the gym this Monday for the "Skinny Dip" Body Fat Re-test on Saturday 4/10 to complete the Paleo/Zone Nutrition Challenge (nice nickname of "Skinny Dip" to Rona BTW). Sign up for your spot and bring a towel and swimsuit for the water tank. If you didn't test the 1st time and want to you are totally welcome. 1st time test is $49 and re-test is $35. 
We are excited for everyone who participated as the progress has been significant. Many have kept up with the weigh-in's, some with diet logs, and overall the eating habits have changed for quite a few. Make it last. Make it stick. We will crown the champs next week!