Monday Labor Day will be one class at 10AM only!
 Visiting CF Centurion for 31Heroes (pictured with friends Toby "the really big guy/Coach" and Allison – Box Owner/Coach):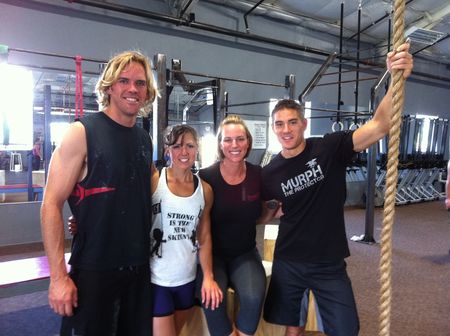 Who's up for a trail race? On September 24th there is a local trail running race here in Snoqualmie on the trails right outside our box! Details can be found here. Last year Rob ran this race and I am hoping we can get a group of CF'ers out there on this fun trail run. If you are interested then sign up and let us know.
"I wanted to make you aware of a relatively new run I am hosting: the 2nd Annual Snoqualmie Ridge Trail Run on Saturday, September 24th at 8am. Yes, that is just three weeks from today. I am thinking about making this into a larger trail running series depending on the turnout for this event.
Here's the skinny:
Capped at 200 runners
Gorgeous
5 miles
Soft trail surface
$15
8am start
Location: Snoqualmie Ridge (Fisher Creek Park)
No strollers or dogs
Those who ran last year can attest that this is a breathtaking course, both literally and figuratively. If you are looking for a really beautiful, inexpensive trail run then please give this one a try. 
For complete information about the Trail Run, visit www.runsnoqualmie.com. You can also click HERE to go directly to the sign-up page. Registration closes at midnight onThursday, September 22nd. You can also register the morning of the event for an extra $5.
Remember that registrations will be capped at 200 to ensure plenty of room for runners up and down the trails.
Hope to see you there.
Sean Sundwall
Race Director"