Skills WOD:
3-3-3-3-3
Strict Chest-to-Bar Pull-ups or Strict Pull-ups
Conditioning:
Max Rounds in 3 Min. of:
3 Power Cleans (135#/95#)
6 Handstand Push-ups
9 Ball Slams (30#/20#)
Rest 1 minute. Repeat for 5 Cycles. 
Complete as many rounds as possible in each cycle.  Goal is to maintain the max number of rounds across the 5 cycles. Score total rounds.
Checkout:
Max Reps In 6 Minutes of:
800m Run
Max Effort Muscle-ups in remaining time
* Scale to max Ring Dips
Results
View this photo
View this photo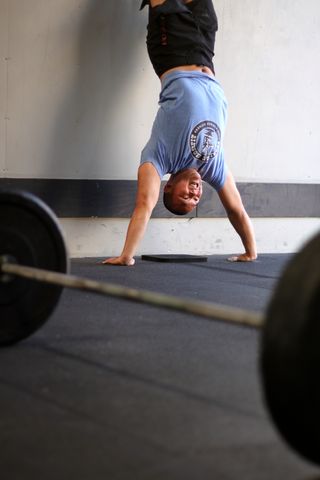 Congrats to Kris and Sam E. for getting their first muscle-ups today! Like the first pull-up that's a milestone every CrossFitter remembers. Also thanks to Coach Lindsay for having a fun "Rowling" competition post workout tonight.
Tomorrow normal class times. Both classes will do the partner Hero WOD "31 Heroes".
Worth watching: Highlights from the 2014 Reebok CrossFit Games
Interested in the CF Team Series?  Then start planning, read up and make a team! The more teams the merrier for SRCF.
Registration Open for CrossFit Team Series