Compete 3 Rounds of 1 Minute of max reps of each of the following exercises:
Burpees
Row for Calories
Thrusters (65#/45#)
Rest 1 Minute
* Similar to "Fight Gone Bad", in this workout you move from each of three stations after a minute.The clock does not reset or stop between exercises. This is a 3 minute round from which a one-minute break is allowed before repeating. On call of "rotate", the athletes must move to the next exercise quickly for the best score. One point per rep, except on the rower where each calorie is one point. Score total reps and reps per round.
Results
View this photo
View this photo
View this photo
Announcing the "Mark Shark" Fan Club!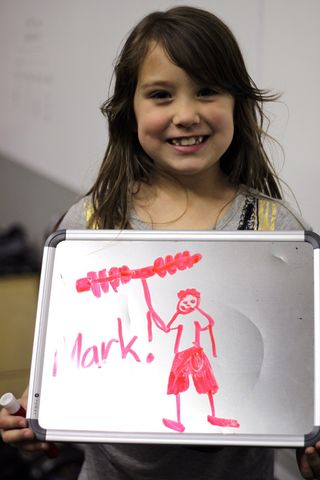 We are now less than 4 weeks away from the CF Games Northwest Regionals which will be held at the Puyallup Fairgrounds from May 25-27. The top men, women, and teams from the Open for our region (WA, OR, AK, ID, MT) will all throw down for 6 brutal WOD's over three days. Our own Mark "Shark" Buskas will be representing for the second year in a row and we will be rooting for him! What does that mean for the schedule over that weekend?
We will be closed on Friday (5/25) and Saturday (5/26) so that we can be down at the Regionals not only as fans; but also as Mark's cheering section leaders (M and Rona), Regionals Judge (Tom), Regionals Media Team (Moe), and Mark's coach (Jeremy). This means no classes for those two days. We highly encourage everyone to try and come to watch Regionals, cheer on Mark and enjoy the Games experience a little closer to home.
Mark and his Shark Socks: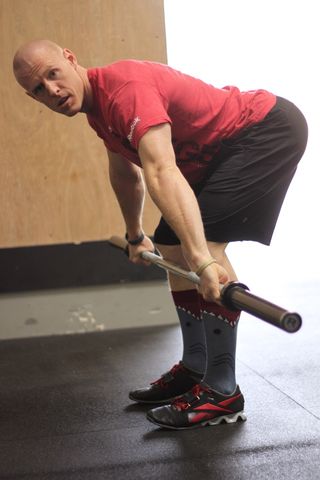 On Monday (5/27) we will have two class times (11:30am and 1pm) and we will run a special Memorial Day Murph workout. We will post an official sign-up for the WOD as we get closer. For those unfamiliar with LT Michael Murphy, aka "Murph", go to the link where you can read about this true hero and Medal of Honor recipient (you don't "win" it, you receive it) and what this classic Hero workout is. If you want to register and receive a T-shirt then you can also do so there. The shirts are pretty sick and designed by Forged clothing company and benefits charity.
Murph is truly a tough Hero WOD. We highly encourage scaling and will ensure each person is scaled correctly. Remember what this represents, what the day is about, and pay honor to those who have fallen. Give it your best effort, count what's legit, join your fellow SRCF community and have some fun!
Regional Preview: Week 3, May 11-13, 2012 – video [wmv] [mov] [HD mov]