Strength WOD:
Every Minute on the Minute (EMOM) for 7 Minutes complete:
2 Squat Cleans, pick load
Conditioning WOD:
AMRAP in 9 Minutes of:
100m Run
10 Wall Balls (20#/14#)
5 Up and Over Box Jumps (24″/20″)
Results
View this photo
View this photo
View this photo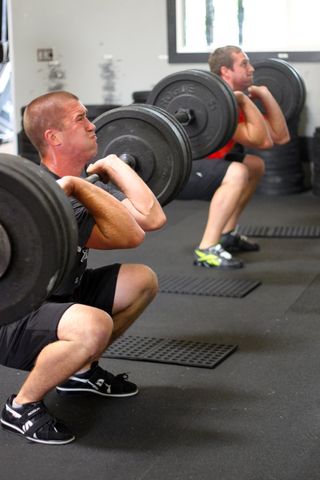 Lu Xiaojun Clean and Jerk 205kg slow motion 2 Amazing clean to squat jerk at 451 lbs. by China's best lifter.
The Clean Event – video [ipod] [mov] [720 HD], from the 2013 CrossFit Tour, Big Sky video series.
Homework: Watch this for a hint for a piece of tomorrow's conditioning workout.
This email from Dan L. was so awesome we wanted to share.
"Hey
Tom/Michelle
I
just wanted to send you a quick note to let you know that joining SnoRidge has
been huge for me.  I'm not the "CrossFit changed my life" guy, but it's
exactly what I was looking for.  My main goal was stress relief through
exercise to help balance my work/school/family schedule and it has been perfect. 
It's hard to think (at all) during/after any given WOD which is the perfect
remedy for stress. 
It has also helped me turn a corner physically.
 I was able drop a bunch of weight (70lbs. or so) over the years through
diet and running, but after that nothing could keep my attention.  Since I
joined in April, I have not once thought about skipping out on a workout. 
Even with only being able to come twice/week, I have been encouraged with my
progress.  Climbing a rope, hand-stand pushups and any more than 2 pullups
(okay 1) seemed like a pipe dream, but after doing a handful of non-banded
pull-ups last night I have done all of those (granted they're not always
pretty).  Even the snatches are starting to come along (save a couple
uncontrolled barbells – my bad). 
A few months ago I couldn't squat deep
enough in the snatch because my hip surgery spot was still a bit sore. 
That's not a problem anymore either.  All that to say – you guys work hard
to run a great box and it's awesome – I wanted to let you know.  The
coaching is great and so is the community.  And if nothing else, I can now
look at someone's shoes and know they do CrossFit.  Good times.
 Consider me a successful convert. ~ Dan"