Perform 8 intervals of  20 seconds of work with 10 seconds of rest for each exercise. This will equal a total of 32 intervals (8 pull-ups, 8 push-ups, 8 sit-ups, 8 squats). There is no rest between exercises:
Pull-ups
Push-ups
AbMat sit-ups
Squats
Results:
Tabata Torture: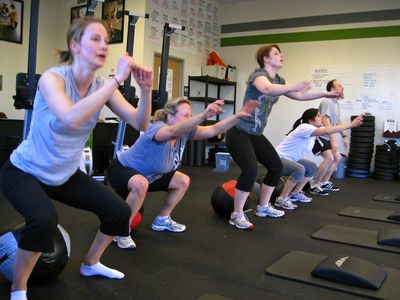 Partner up and keep score: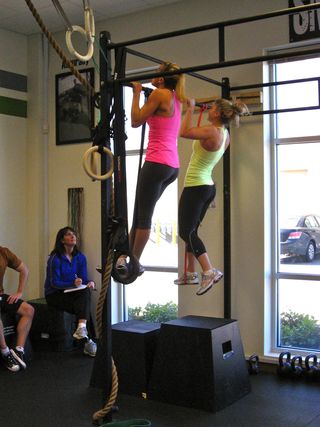 Today the CF Games 2010 WA Sectionals announced 2 of the 3 WOD's for Saturday (Day 1) of the competition next weekend. The WOD for Sunday (Day 2) will be announced at the end of Day 1. They also posted video of the first two here. 
What do we know? They will be good challenges. The movements are ground to overhead, sprints, handstand push-ups and front squats so far. They will be heavy, short and medium duration, and need strength, power, speed, balance, and stamina. Judging by the "bring your own jump-rope" note they will involve agility and cardio-respiratory endurance. No doubt with the other two wod's yet to be announced they will cover these and more of the ten components of fitness. If you want to test yourself then there's no better place than the Sectionals. Top 20 men and women will each advance onto the Regionals in May. We will also be competing in May at the Pacific NW Regional Qualifiers with our Affiliate "Team Squatch". We will select our team of 6 based on the 9 athletes who are competing next weekend. 
I know all of us as competitors all feel some level of anxiety and fear over the WOD's. It's only natural. Heck Michelle seems stressed out about it, and I am the one who normally does the stressing for the two of us. Bottom line: Have fun. Take it for what it is; a few workouts on Saturday and one on Sunday. This is our chance to compete with a ton of good people who all simply do it to get fitter. It's our CF Games event as individuals. Come Monday it will be a memory that no one will ever take away. It will make you both physically and mentally stronger. A chance for your friends and loved ones to go cheer for you and for yourself to cheer on others. It will forge elite friendships through mutual suffering. It will be something that if you were to change your mind and not compete would likely leave you feeling disappointment. So why not? Doing it is what makes you stronger. So just do it. We're as ready as we're gonna be! Who's with me?
Rona wrote to me today about the Sectionals (where she will be volunteering with Jana) and I thought I should share it:
"Hey guys,
I just had to follow-up to this morning and talking about sectionals. I totally get how frustrating and nerve racking it is not knowing what's coming and not being super happy with what you do know. Get that completely.
I definitely think everyone should go, and I know you guys will encourage them to. One thing Jesse was saying from last night, that I thought was really key, is that this is "Our WA state CrossFit Games" meaning make the most of the experience. Go into it with all the heart and excitement and attack the workout with all you got. How can you go wrong with that?  Not everyone gets to go on to the next phase and even less make it to the games, but that's ok. You get to this experience together, with the community that you have fostered and no one can ever take that away. I am pumped! 
I know you are all going to kick some ass at sectionals!

Good Luck!!!

Rona"
Notes:
Tomorrow will be our Paleo/Zone Nutrition Challenge kickoff! 7 weeks of eating right! Come weigh-in, check your body fat, take your pics and do a WOD! WOD is 1030 for main group, 0900 for Affiliate Team.
The lulu crew (I kind of like that name) came in today for some more brutal fun.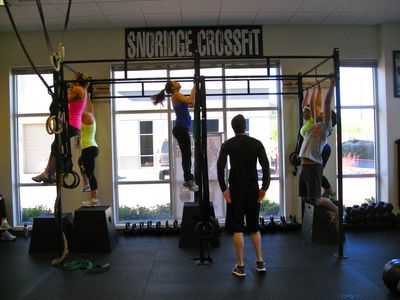 Yesterday Anthony  said he would never do handstands because he didn't like being inverted. Umm…