5 Rounds for Time
400m Run
15 OH Squats (Prescribed Weight: 95# M/65# W)
The Overhead Squat is a weightlifting movement that requires strength, coordination, flexibility, power and a stable midline. Its ability to test the strength of your core, shoulders, and legs is unsurpassed.  It's a technical lift that requires practice, practice, more practice and then patience, but once you get it you quickly see a change in your speed and power.  We have been focusing on these quite a bit with PVC pipe both in Elements and then in warm-ups.  The weather made for a perfect time for several of you to try it with a barbell or load to feel the difference so we ran everyone through a scaled version of "Nancy".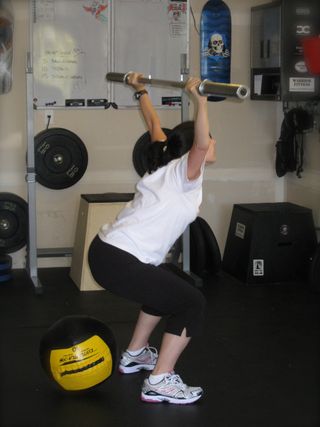 Quote of the Day:
"I felt like a Nancy while trying overhead squats." ~ Curtis
Here is a great video taken from the CrossFit Main site "Exercises and Demos" section.  It shows good OH Squat form as well as keys to safely lifting, lowering and dumping the barbell.