For time:
21-15-9 reps of the following
Thrusters (95#/65#)
Pull-ups
Results
Fran does her namesake (whose picture did you think I would use):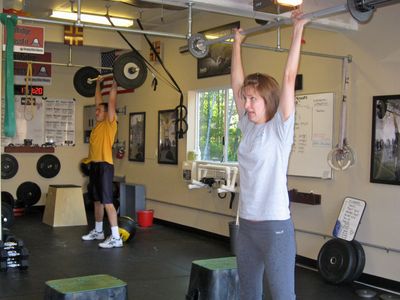 The dreaded "Fran". This is the WOD that for some reason since it was created oh so long ago by Coach has sparked the most butterflies, competition, debate, comparison, you name it. Most CrossFitters invariably ask "what's your Fran time?". It's the one benchmark on a leaderboard that is always there and gets the most looks. For examples just look at the
Exercises and Videos
section on the CrossFit main site and there are 15 video demos of regular Fran, 1 Firefighter Fran, 1 kids Fran, 1 Flying Fran, 2 Heavy Fran's, and even a "Frelen" which is a combo of Fran and Helen. Gyms have Fran challenges, and post videos of their own. To say nothing more it has a place in CrossFit that draws a lot of interest and scrutiny on form.
Why? Well it is a very effective WOD that appears quite simple. Push and pull. Full body functional movements. Done very fast it is devastating. Scaled or not the
faster
you go the harder this gets and the worse you feel. Afterwards many get the "Fran cough" which feels like a cross between bronchitis and smoker's cough. Usually about the set of 15 you simply lose all energy in the body. Going to the pull-up bar becomes a struggle. Mentally it becomes pretty tough to keep going.
If you didn't feel this way today that is okay! We will do it again sometime, giving you all a shot at that cough…
I'll leave you with a video of one incredibly fast and legit "Fran" time. Note the form and technique is spot on. Click below to watch. It will only take 2:57. It's worth it, she kicks some serious tail.