3 Rounds for Time:
50 Squats
15 Pull-ups
10 Hang Clean (135#/95#)
This is a variation on the WOD
Nasty Girls
(which has 7 muscle-ups per round rather than 15 pull-ups). We wanted a workout that would be a high power, sub 10 to 15 minute range. We wanted you all working on a new barbell lift and working pull-ups.  Mission accomplished.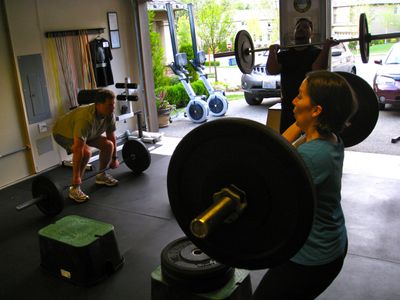 All of you are picking up the subtleties to how technique effects the amount of load you can effectively clean. Finding that working load is key to helping magnify faults in your form. Not heavy to the point of unsafe, but too light and you can't feel why the elbows need to come around or why the shrug and pull needs to be explosive. For hang cleans, power cleans, squat cleans, or even med ball cleans, the technique follows the same basic movement pattern.  
Deadlift in the first pull off the floor, then explosive up shrug and pull on the load in the second pull followed by an aggressive commitment to pulling under the weight to the rack position with the elbows through (like Sherry and Jim above).
Oh and two of our number are moving up on banded pull-ups in WOD's.  Nice work Sherry and Travis!
Notes:
Friday the gym will be closed. If you are scheduled for class we will work with you on an alternate make-up slot.
Shirts came in (black, pink and white designs) so if you want one let us know. They are $20 each.