Uttered by Travis today during this WOD in a state of exhaustion and breathlessness (See below). This just had us cracking up.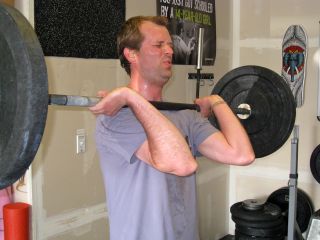 Front Squat
3/3/3
Goal is to get max effort and weight for 3 reps per set of Front Squat. Followed by the WOD.
3 Rounds for time:
400m Run
12 Front Squat (95#/65#)
21 Knees to Elbows
Knees to Elbows proved the toughest aspect of this WOD. The devil of these is how they quickly degenerate into a "gorilla swing" if you don't find a rhythm or reset yourself. That and the grip failure from hanging for so long.