Today was the Snoqualmie Railroad Days 5k/10k and kids 1k race. We represented well with the following group of runners. Results haven't been posted so will share when they are up.
5k Race:
Deb L. (with Porter in the stroller), Deb S., Jim M., Jim D., Jorge, Jana, Lyndi, Amanda, Lucy, Leigh, Michelle, Tom
10k Race:
Sherry, Travis, Jenna
Kids 1k:
Max (and his cousin), Skye, Ashley, Finn, Grace, Jenna
One of these kids is doing his own thing: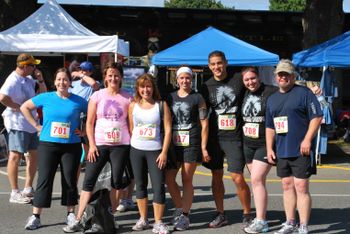 PR's were set, first races were run and many had their family members running so there was a big turnout for a really fun, fast, and scenic course. We especially want to thank Rob and Curtis who watched kids, handled photographer duties and cheered everyone to the finish. 
Afterwards we headed back to the gym and our house for a great BBQ with not only the SnoRidge crew but also many friends from around the Puget Sound. Thanks for everyone who stopped by including the gang from
King CrossFit
,
CrossFit Olympia
, and many of our close friends from the Dupont area.
Next year's is already on the books for Sat. August 21st. Plan on running it again!