ONE SPOT REMAINING!
Goodbye Elements, hello OnRamp!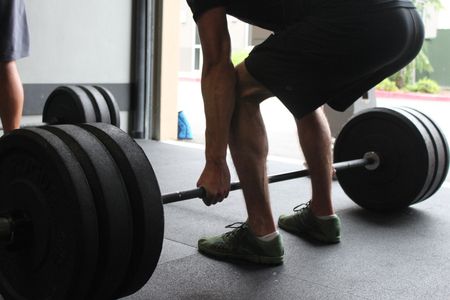 Where we previously had our "Elements" plan which consisted of 3 one hour sessions with a coach and then led to entry into our normal group classes as our starting point we have changed this to our new "OnRamp". Our OnRamp is a program designed to allow for more instruction and coaching with beginners for a longer period of time. We feel this benefits the newcomer from feeling overwhelmed, intimidated, or reluctant to joining large group classes after they start. We think an extensive entry program can only help set up the new CrossFit athlete for longer term success. 
6 one hour classes for 2 weeks (Tuesday and Thursday nights at 7pm and Saturdays at 8:30am)
Limited to 5 people per On Ramp in a group format class
Cost: $175 (plus tax) includes all 6 OnRamp Classes, remaining two weeks of month unlimited classes (30 days from start of OnRamp) and the SRCF/Whole9 Nutrition Guide
Classes run in order and only one make up class is allowed per OnRamp to be scheduled only as required. (As this is a small group instruction format, it is necessary to adjust your schedule to attend them all)
Instruction and coaching on the fundamental movements used in CrossFit. Our coaches are certified to teach, scale, and coach the proper mechanics, technique and standards of movement. We will COACH you. Not just turn on a timer and disappear.
Movements include weightlifting, gymnastics, and cardiorespiratory endurance exercises such as squat, front squat, overhead squat, clean, snatch, press, push press, push jerk, deadlift, sumo deadlift, box jump, medicine balls, kettlebells, push-ups, pull-ups, rings, sit-ups, lunges, rowing, running, jump rope, etc.
We focus on drilling technique and safety before ramping your intensity levels or increasing weight
Each class ends with a CrossFit workout that will build upon what you have learned to date and is scaled appropriately to any fitness level
Review of the benefits of tracking your workouts and training, utilizing mobility and flexibility to aid in workout preparation and recovery, and basic overview to the types of CrossFit workout programming (metabolic conditioning, strength training, max effort/reps, etc.)
Introduction to the concepts and benefits of proper nutrition through our SRCF/Whole 9 Nutrition Guide that focuses on the benefits of the Paleolithic Diet and healthy, clean eating
Upon completion and graduation from OnRamp the last two weeks of the start month are included (30 day period from the OnRamp start date) before needing to choose between continuing into our daily group classes with either of our monthly memberships; unlimited or our 2x weekly membership plan
Our first OnRamp begins next week on Tuesday night 1/10 at 7pm! If you know anyone who wants to start they can contact us via email at snoridgecrossfit@comcast.net or come in the gym. 
Week 1: Tuesday 1/10 and Thursday 1/12 at 7pm, Saturday 1/14 at 8:30am
Week 2: Tuesday 1/17 and Thursday 1/19 at 7pm, Saturday 1/21 at 8:30am
Why wait? 3-2-1 Go!
Contact us and register on MindBody for OnRamp now!