Strength WOD:
1RM Clean and Jerk
30 Minutes to work up to a 1RM clean and jerk (use split, power, squat clean and push or split jerk)
Checkout WOD:
"Abdominator"
2 Rounds for Time of:
20 Toes-to-bar
20 AbMat Sit-ups
20 Overhead Sit-ups (35#/15#)
Results
View this photo
View this photo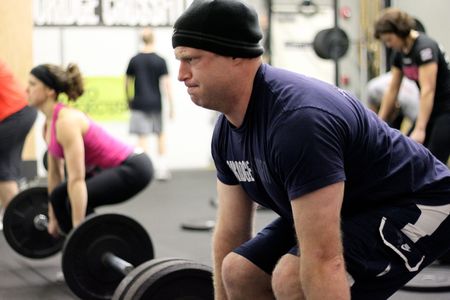 Quote of the day: ""I count him braver who overcomes his desires than him who conquers his enemies; for the hardest victory is the victory over self." ~ Aristotle
Tons of cowbell today! PR's on cleans, jerks and both in class after class. The clean and jerk is a technical combined lift that has endless things to work on. Everyone was applying the cues and corrections well and making some heavy lifts. Don't be discouraged if you didn't hit the load you wanted, instead be content with knowing you got stronger and practiced with better movement that will keep you moving towards a PR.
Sing along with me: 
"One of these things is not like the others, One of these things just doesn't belong, Can you tell which thing is not like the others, By the time I finish my song?"
Clearly some of you did not grow up watching Sesame Street:
Friends don't let friends put stuff away wrong. Study the DB rack. Heaviest on top with the same numbers. Lightest on the bottom. Watch below for help if you couldn't spot it.
Notes: