Strength WOD:
8 minutes to complete:
Shoulder Press
3/3/3/3
* Power Clean from floor
Conditioning WOD:
For time:
400m Run
21 Kettlebell Swings (72#/53# or 2 Pood/1.5 Pood)
21 Burpees
400m Run
15 Kettlebell Swings
15 Burpees
400m Run
9 Kettlebell Swings
9 Burpees
Results
View this photo
View this photo
View this photo
Demon Pood: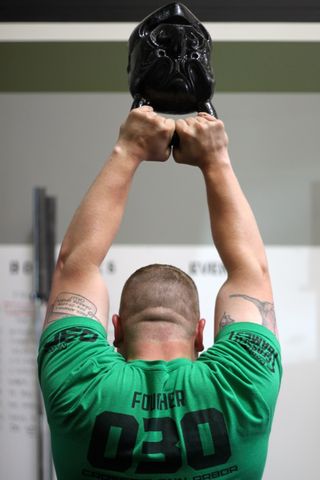 What's a Pood? It's a Russian unit of mass. In CrossFit, the main numbers we use in kettlebells are a 1 pood (~36 lbs.), a 1.5 pood (53#), and a 2 pood (72#). Now that you know what it is, please feel free to make inappropriate pood jokes in the gym.
Food for thought:
Quote of the Day: "As a gym owner and a trainer, when I see people move bad at the very start of a workout, all I can think is that is the culture at the gym they come from. It's a direct reflection of the owners/trainers at that gym." ~ Freddy Camacho, CrossFit One World
Read the following link to understand the way both Michelle and I (and your fellow coaches at SRCF) feel about local CrossFit competitions. While we fully endorse competing and love to see our people put themselves out there; above all we encourage you to focus on the importance of good movement and good technique first. I feel that we do pretty well in this area and that we have a strong culture that fosters good movement, scaling and safety in our training.