Complete 5 Rounds of the following couplet:
1 minute Max Effort Rowing (Calories)
30 seconds rest/transition between exercises
1 minute Max Effort Thrusters (95#/65#)
Score total reps/calories
Results
Jump for joy the gym is open!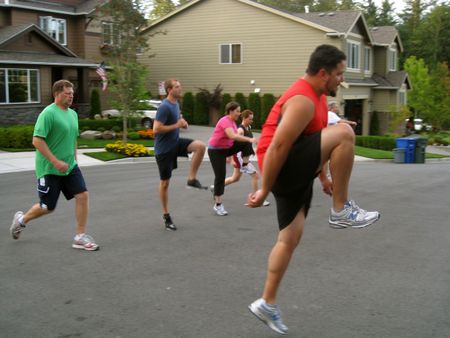 Hope you were as excited to see the whiteboard (and us) as we were to see you all. We missed all of you! Today was a great turnout, great effort, and great camaraderie. We had a big crowd, including two drop-in's (Scott and Michelle) that were friends of Curtis and Bridget respectively. Eli began Elements today and finished both rounds very strong. The late PM group used the day group numbers as motivation and we saw some healthy competition in the gym. Nothing like thrusters to get everyone back in the swing of things.
Notes:
Railroad Days 5k is this Saturday! Make sure you are registered (over on the right hand side of the site). BBQ / potluck after the race at the gym. Michelle should be sending an Evite.
Race Day Schedule
07:00 — Race # Pickup & Race Day Registration
08:45 — Registration and Race # Pickup Ends 
09:00 — Start of the 1k
09:10 — Start of the 5k and 10k
10:30 — Awards ceremony
10:40 — Course Closes
Get ready for the
Fight Gone Bad Challenge
in September. It will be a CrossFit affiliate wide fundraiser for the Wounded Warrior Project and Athletes for a Cure and our gym is participating. Poster is up in the gym, or click on the link on the right of our page. On September 26th the WOD will be Fight Gone Bad. This will be that rare time you know the WOD in advance!