AMRAP (as many rounds as possible) in 20 mins of:
20 Wall Balls (20#/14#)
200m Run
20 Shoulder-to-Overhead (75#/55#)
200m Run
20 Toes-to-Bar
200m Run
Checkout WOD:
Choose 2 Minute Challenge of:
Max Reps Wall Climbs
or 
Max Reps of Handstand Walk 
* 1 Rep = 10m; 1/2 Rep = 5m
** Must go 5m Unbroken for 1/2 rep to count; if you fall befor 5m you must start over
Results
View this photo
View this photo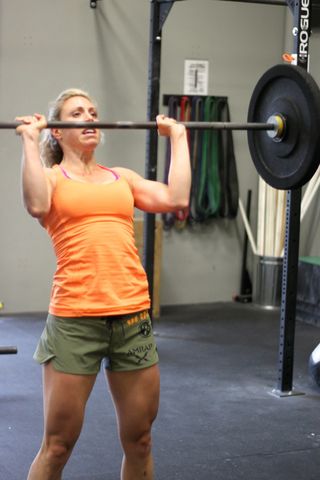 Over the past few days we have had a few people from other affiliates drop-in for a WOD and tell us how about their visit and we have also had some unsolicited feedback from members about the community and atmosphere of our gym. It was all overwhelmingly postive and complimentary. To hear how welcoming, friendly, and encouraging the people are and also how well their gym experience itself was makes us tremendously proud. Proud to be a part of SRCF.
This is right on (except the "wearing gloves" part):
What To Expect From Your First CrossFit Class www.boxlifemagazine.com
Coaches MK and Nicole from our friends at CF Devotion dropped in today: