Complements of District CrossFit:
Complete 5 Rounds of 90 seconds each of:
5 Back Squat
Max Reps Box Jumps (24″/20″) 
* Rest 2-3 minutes between intervals
** Treat back squats as a strength WOD and load as heavy as possible
Results
View this photo
View this photo  
Mish back rack: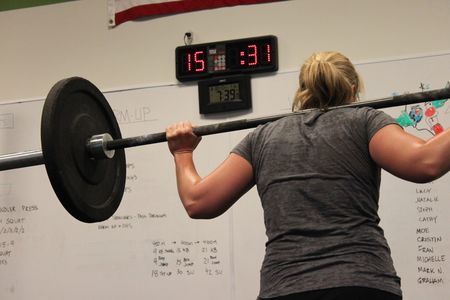 Reminder that we have a Wednesday 7:30am class available for those early CF'ers who said they wanted it. Starting next week we are going to put a reminder on the blog and on Monday ask anyone who is going to go to post on the blog for sign-ups. No sign-ups then no class. No-show then no more 7:30am. Also in October we are considering changing the afternoon/evening schedule to 5:30pm and 6:30pm vs. the 5pm, some 6pm and 7pm schedule we have now. Let us know your thoughts!
Announcing the Paleo Diet Cookbook by Dr. Loren Cordain coming out December 13, 2010 on Amazon.com
From the Paleo Diet newsletter:
Dr. Loren Cordain (LC): The Paleo Diet Cookbook will be published by John Wiley & Sons, the publisher of my first book, The Paleo Diet. Because of the enormous success of The Paleo Diet, my publisher wanted us (me, my wife Lorrie Cordain, and Nell Stephenson) to write a follow-up cookbook that would provide my readers with a "how to, hands on" easy approach to preparing and making delicious Paleo meals and snacks. The book contains more than 150 recipes arranged into the following chapters and topics:
Introduction
CHAPTER 1: The Paleo Diet Basics
CHAPTER 2: Paleo Kitchen Basics
CHAPTER 3: Paleo Breakfasts Dishes
CHAPTER 4: Paleo Snacks and Appetizers
CHAPTER 5: Paleo Poultry
CHAPTER 6: Paleo Beef, Pork, and Lamb
CHAPTER 7: Grass- Fed Meat, Game Meat and Jerky
CHAPTER 8: Paleo Fish and Seafood
CHAPTER 9: Paleo Salads
CHAPTER 10: Paleo Vegetable Dishes
CHAPTER 11: Condiments, Salad Dressings, Sauces and Fruit Purees
CHAPTER 12: Paleo Beverages and Desserts
CHAPTER 13: The Paleo Diet Two Week Meal Plan
CHAPTER 14: Treats and Meals for Crossfitters and Athletes
Notes:
Runners! There is a 5 mile Snoqualmie Ridge Trail Run being organized for here in Snoqualmie on 9/25 at 8am. Race will be limited to 200 people and registration details are available here. If you plan to run this then sign up ASAP before they run out of spots. Cost is $15 before 9/19.
Congrats to Riche and Terry for finishing Elements today! Also congrats to Marc for completing his 150th WOD in our box. We are stoked for you and the progress you have made!
Me and Sean doing Turkish Get-ups in our WOD: