For time:  
30 Handstand Push-ups
40 Pull-ups
50 Kettlebell Swings (53#/35#)
60 Sit-ups (AbMat)
70 Burpees 
Results
View this photo
View this photo
Amy chips away at her pull-ups: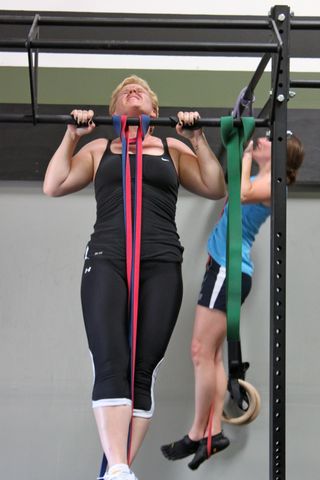 Get signed up for Fight Gone Bad 6 on September 17. We are hosting again this year!
Alongside CrossFit Affiliates worldwide, for the past two years we have organized, led, and hosted Fight Gone Bad at SnoRidge CrossFit to raise money for worthy causes, sweat together, and build community (see FGB 4 and FGB 5). Our goal each year is to make the WOD count for more than just a tough workout for one day by bringing all of our great people together with our CF friends in our area and bond over hard work and purpose. As a former military service member I am fond of helping our veterans and heroes who have sacrificed so much for all of us in this great country and what better way to do it than through using our passion of CrossFit for a good cause.
This year we proudly host this event again and will invite a few of our close friends who own local CrossFit gyms to our box to share in the event. Along with all of your coaches I will participate and give my best in this workout to get as many reps as possible in honor of those who serve. The primary charity this year is the Special Operations Warrior Foundation which benefits the families of fallen operators and wounded warriors who are truly out front leading the real "Fight".
Register for FGB 6 and then join our SnoRidge CF Team! Start your fundraising now. You will need to raise a minimal amount of funds ($30) to participate with us this year (this applies to all SRCF members and coaches). If you raise $150 you will qualify for one of the sick official FGB T-Shirts (steel grey, american Apparel T's and tanks).
3-2-1 Fight!
Notes and Events:
"Rich Froning on Pressure and King Kong" CrossFit Games 
This week CrossFit Seattle is moving into a bigger space and has a week of very cool events lined up that are free and open to all. Check out the events and if you are interested go drop in. Check out this Saturday especially for a bunch of awesome coaching clinics (Six 30 Minute clinics)!
Sunday at Sumner CrossFit will be a Whole9 Nutrition Workshop from 9am-5pm. Amanda, Lorraine, and Shannon from our box are attending. Click here for more details.