Affiliate Team WOD "Fat Sumo":
For time:
15/12/9/6/3 reps each of:
Sumo Deadlift High Pull (135#/95#)
Front Squat (135#/95#)
Kettlebell Swings (53#/35#)
Results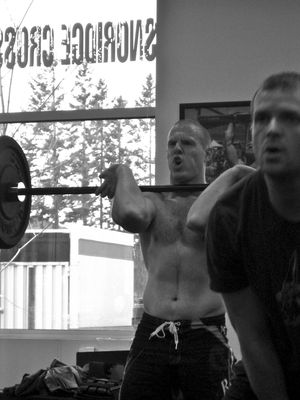 Main Class WOD "Skinny Sumo":
5 rounds for time:
12 Sumo Deadlift High Pull (95#/65#)
12 Front Squat (95#/65#)
12 Kettlebell Swings (53#/35#)
Results
Day 46 of the Burpee Challenge. Be the burpee!
More brutal fun today. Two WOD's; different loads, different rep schemes, same exercises, but both brutal. Good to see so many faces getting in and coming in ready to get to work. It's also cool watching everyone help each other setting up, cheering, pushing, coaching and motivating each other to get through. Good to have our friends from "The Compound" (Mark, Jeremy and Kim) drop in for a WOD this morning and then stick around to cheer on the other groups. 
Jeremy wearing the ultimate CF hat: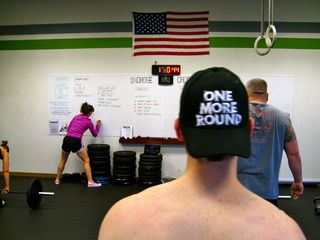 Notes:
Don't forget your burpees tomorrow and if you aren't on a rest day try a run WOD. Run a 5k, run 4 x 400m for time or try 3 x 800m runs for time resting the same amount in between runs while trying to maintain the same split time. We haven't run much this week due to the high winds but if it's anything like it was today then get out there and hit the trails.
Welcome to Rob who just started Elements with us this week and also our recent members Kim, Mariela, and Maria who all completed Elements over the past several weeks. If you haven't already done so, introduce yourself to them and welcome them to the community!