Strength WOD:
Complete the following for load every minute on the minute (EMOM) for 10 minutes: 
2 Snatch (Squat)
* Post loads, re-grip allowed
Conditioning WOD:
5 Rounds for time of:
7 Snatch (95#/65#)
12 Weighted Overhead Sit-up (25#/15# bumper)
200m Run
Results
View this photo
View this photo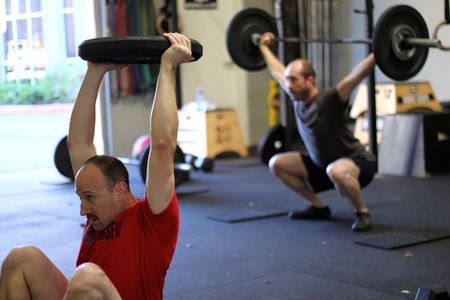 View this photo
View this photo
Focus on the "Finish" in your olympic lifts. Full hip, knee, and ankle extension with your shoulders back behind the bar. This is the end of the "2nd Pull" and is vital to the jump portion of the lift. With speed through the middle and a strong finish you WILL hit a PR.
Schedule:
Thanksgiving Week Schedule (Classes will follow the normal schedule unless specified below):
Wednesday 11/21: 7pm class cancelled. All classes Wed. through the 6pm are on schedule
Thursday 11/22: Closed for Thanksgiving! Eat, drink and be thankful for a rest day.
Friday 11/23: One class time at 10am to burn off all the strict paleo dishes you feasted on Thursday.
"A Metabolic Analysis of CrossFit's Elite: Part 1," CrossFit Journal video [wmv] [mov] [HD mov]
Are you a black Friday and Cyber Monday kind of person? If so then you might want to take advantage of some CrossFit deals that happen over the holiday for CF sites like Rogue Fitness, LifeAsRX, and Again Faster. They typically announce their deals on Facebook in advance as well as their websites and email. 
Here's one interesting giveaway from Again Faster Equipment: "In addition to Black Friday/Cyber Monday deals on equipment, we are also giving away a free year of CrossFit membership dues paid in full to one lucky individual. By making a purchase at AgainFaster.com starting November 23rd 12:00am EST through November 26th 11:59 EST you will automatically be entered to win."