5 Rounds for time:
Run 400m
21 Deadlifts (185#/135#)
Results
View this photo
View this photo
Allison (center in pink) celebrates her birthday with some of the afternoon crew: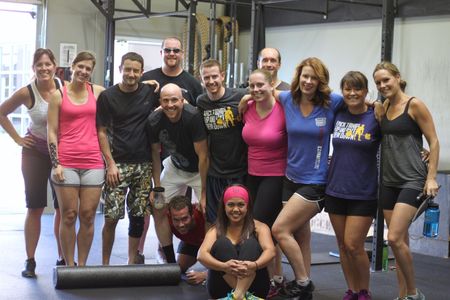 Today's workout is one we have done before that I originally got from CrossFit.com. Happy birthday to Allison who got to deadlift and run (a fave and not so favorite exercise)!
BTW here is the new approach to the birthday WOD. If you want one then you have to request it. You can pick a past workout we have done, a crossfit.com main site WOD, a Hero WOD or a Benchmark Girl WOD (all within reason) and I'll see how we can fit it in. You can also give me your likes and dislikes and I'll find one that fits. I won't guarantee you'll get your choice, as it has to take into account logistics, scaling, time domain, suitability for a class, and remainder of the programming for a given week. Hint: Don't come in and request "Bull". I'll simply laugh at you and then make you do one round of it by yourself sometime. Likewise don't request something so rough that you cause us to lose 10 clients as a result (like "10k Row" or "Annie Are You Okay?") or something so easy that I bitch slap you for suggesting it (like "Annie"). That is a checkout WOD. If you ask for that I'll make sure you do something hard up front (that's what she said).