AMRAP: As Many Rounds As Possible in 20 Minutes:
5 Handstand Push-ups 
10 Knees-to-Elbows
15 Steps, Walking Lunges (Knee gently touches ground)
Results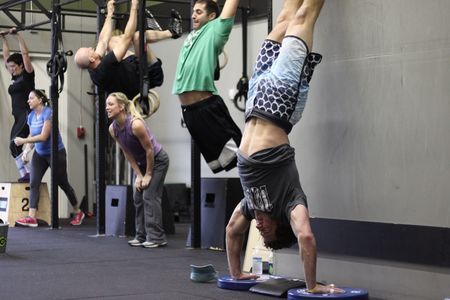 Tonight was Coach Sean's first two classes. High fives all around! Even the couple kids at 6pm got so into giving him (and everyone else) a high five they pretty much turned the AMRAP into 5 HSPU, 10 K2E, and 15 High Five Walking Lunges. Sean is CF Level 1 Certified and USAW Level 1 Sport Performance Certified and has a great eye for seeing and correcting faults. We think he will be a great coach to add to SnoRidge. We are excited that he agreed to coach the Wed. 6 and 7pm classes every week.
Sean HSPU and high fiving:
If you are wondering "What about Coach Moe?" don't worry. Moe will be covering classes here and there and is hard at work planning our CF Teens Class that will launch late January/early February for a limited number of teens (12-16). Stay tuned and when we are ready to share details you will know it here.
Notes:
Tonight was the 7pm MobiWod with Coach Rona. A couple turned out and reaped the benefits. We want to see more of you turn out regularly.
Don't rubber-neck, or do your pull-ups like a chicken. When we say "chin over bar" we mean pull yourself over the bar. Don't launch into a neck spasm and try to throw your neck and become Plastic Man to get the rep to count. If you can't pull over the bar, work your pull-ups with a band, focus on them through skill work and in warm-ups and get stronger.
Mobility WOD:
"You Can Minimize Neck Movements Under Load, Even the Butterfly Kip"