3 Rounds for time:
400m Run
50 Air Squats
500m Row
Results
SRCF crew and Todd: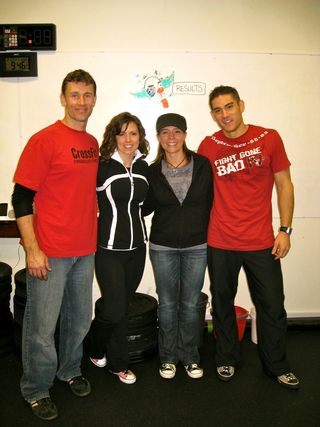 Quote of the day: 
"Almond butter, cashew butter, all goodness! Then there's nut porn, which is macadamia butter." ~ Todd Widman
Tonight we were honored and extremely fortunate to have Todd Widman (of CrossFit HQ Training Staff and Rainier CrossFit) come share some outstanding food for thought with a total of 35 of us. The nutrition discussion was a great success with a spectacular turnout. Todd focused on the why, the what, the how, and the tweaks that are key to building a foundation of solid nutrition. His passion was evident along with his education on the subject. In addition to flat out getting some good common sense education around diet and the role it plays in everything from performance to life; we learned a ton of other things around how to keep things simple when talking nutrition. 
Our bodies are a machine. How we fuel it is a conscious choice that impacts us every minute, every day and every year for the rest of our lives. As Todd summarized succinctly, you spend 1 hour of each day with hard effort in your daily CrossFit WOD. You have 23 other hours a day to screw it all up. He presented many compelling reasons for why we should eat real food, and in the right proportions. He covered the relationships of macronutrients and their impact on fueling the body. The material flowed well and led to questions that were smart, practical and beneficial to all. We learned about eating quality food, the basic Paleo influenced diet, and the Zone diet. He spent time on why combining the two is so much more effective than just one over the other. So with that we will springboard into our Paleo/Zone Challenge starting next Saturday. If you are on the fence ask yourself why not? What do you have to lose (other than weight and some bad habits)? Clean out the fridge and the pantry. Take the plunge. See what eating clean and in the right amounts can do. As Todd said, "Just Try It. You can do anything for 30 days."
Thank you Todd!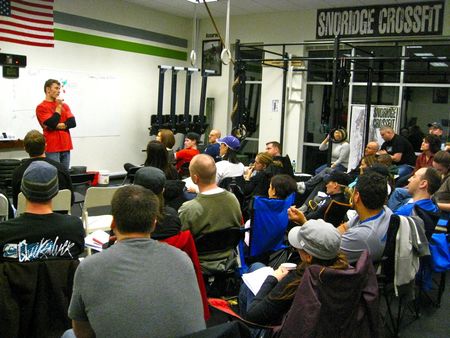 Notes:
Affiliate Team training at 9am. Saturday class will be at 1030 for all. Seeya then!
Steven and Jackie from lululemon dropped in again today for a WOD. It was great to have you guys visit and look forward to you getting in more often.