Happy birthday Maria!
8 Rounds for Time:
9 Kettlebell Swings (53#/35#)
9 Kettlebell Sumo Deadlift High Pull (53#/35#)
9 Box Jumps (24″/20″)
* Degree of difficulty: Use a heavier kettlebell

Results
Maria celebrating with some birthday swings: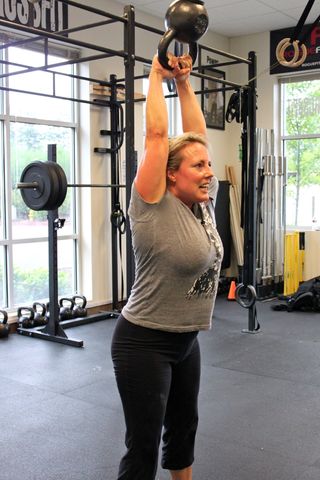 Who doesn't love a birthday WOD? You get to be creative while making a tough WOD all while meeting the challenge of working within certain numbers (age or birthdate). If I hear that the WOD was tougher than expected, or looked easy on the whiteboard, then I know it was effective. This was one of those WOD's. Great to see Maria choose to come in on her birthday and work hard with the 5pm crew!
We also had a group of CF'ers from Ellensburg drop in last night on their road trip to different boxes in the region. Props to Justin, Ashley, Brenden, and Marshall for coming by and doing their second WOD at our box!
Notes:
We are working on rolling out schedule changes to add a 7:30am class (1-2 days per week) and a 6pm (2 days per week) very soon. Also we are finalizing pricing changes for September for unlimited and couples. Stay tuned.
Want a Paleo Cookbook? I have not used these but they look pretty cool in the description so thought it would be worth throwing out there. Second Edition Paleo Cookbooks
Sign up for the Railroad Days Race if you are in and let us know! Kids 1k, 5k or 10k races on 8/21. Info on the right.