Every minute on the minute complete 10 Box Jumps then perform max reps of overhead squats for the remainder of the minute. Continue with this rep scheme each minute repeating box jumps and max OH Squats until you total 100 reps of overhead squats. 

EMOM: 
10 Box Jumps (24″/20″) 
Max Rep Overhead Squat (75#/55#)

* If you cannot complete any OH Squats in a minute rest and continue with box jumps until you hit the 100 rep total.
Results
 Nan and Pat praying to the CrossFit Gods yesterday for help in today's WOD: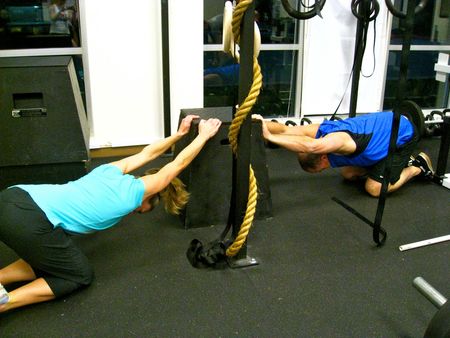 Quote of the day: Deb mid squat talking about her husband ~ "Oh my God I don't want to look like Curtis!"
After today you may all want to throw me into a penalty box. This was our re-match from back in November and there were a bunch of PR's today. Keep working on the form over loading up the weight. Full depth should be the goal first, then load. This movement is a core taxer. It also was the cross-box challenge with several local affiliates (Outer Edge CF, Local's Gym, King CrossFit, Stoneway CF, CF Advantage, Foundation CF, and Rivertown CF). We picked the WOD this month so you can understand why I chose this! You can check results that will be posted to Facebook under the group "A Bunch of CF'ers" and I'll post our average gym time here as well.
Bridget post Penalty Box: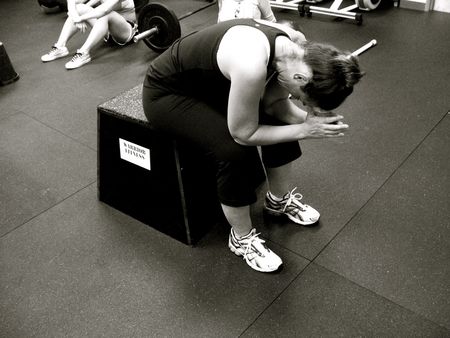 Hey you rowers! Did you know Concept 2 has a dedicated section on their site for CrossFit and rowing? Click here for some useful info, demos, events and training videos. 
Congrats to our friends from King CrossFit who made the CF.com main site today in a video from back in their garage days. They are now thriving in a big box in Renton. Time flies. [wmv] [mov]