Strength WOD:
Power Clean
1/1/1/1/1/1/1
Checkout:
AMRAP (As Many Rds. As Possible) for 12 Minutes of:
5 Power Cleans (95#/65#)
10 Jumping Lunges (2 Count)
15 AbMat Sit-ups
Results
View this photo
View this photo  
Congrats to Bridget, Travis and Jorge who completed their 100th WOD tonight at SRCF! They earned their right to get a shirt (which we are submitting the order for)! We are all proud of you for hitting this milestone.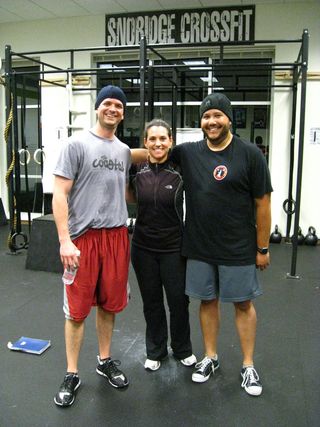 Moe, Jim C., and Sherry powering through (Love the stink eye from Jim):
Today I happened to walk by a "gym". I was at the downtown replica of Rodeo Drive (otherwise known as The Bravern) for work and as I was leaving figured I would stop in and check out this place called David Barton Gym. I walked in and promptly felt like I should order a martini and look for the DJ. As I regained my senses and walked through a weird entryway towards the desk I started feeling a little ill as the walls curve like a skateboard ramp while the music thumps and candles flicker. Pushing the fight or flight response aside I felt I needed to see what the "gym" really was like. After way too long of a talk at the front desk with the Beverly Hills 90210 cast I was "allowed" to "quickly take a look" rather than sign up for the tour. It didn't take me long to realize that this place is a total disgrace to the word "gym". Staff members wearing T Shirts that say "Look Better Naked" and zero emphasis on creating an environment of fitness. Lighting so dim it had to be a nightclub. Oversized contemporary couches  and chairs scattered throughout the workout area and chandeliers dangling. People plodding through routines on machine after machine. After briefly considering doing burpees for time I hurriedly left and drove as fast as I could to our box. After a brief trail run I was able to do a Squat Snatch WOD and PR my one rep max between observing two classes of high intensity suck-fest taught by two fabulous coaches (Michelle and Moe). Now that is what I call a gym. But I am a little biased…
Notes:
We are totally stoked that Moe officially ran her first class tonight at SnoRidge! It was far from her first time running a CF class (she has been a trainer at Gravity Jane's for over a year) and tonight she hit it out of the box! I also have to say it was really cool watching and learning from another coach and trainer. She will run next Thursday's 7pm WOD as well.  Then starting 2/16 she will be teaching a new 6am WOD every Tuesday and Thursday for those crazy enough for CrossFit that early in the morning! 
Are you competing in the Sectionals? Are you one the fence? Are you scared or worried about whether you should have registered? Go read "An Open Letter to All CrossFitters in Queensland", an article directed to Aussies but applicable to CF'ers worldwide. This addresses the most common questions with some great advice around competing in events. It will make you better, it will give you focus, it will push you farther than you expect. The CrossFit community is supportive. It is filled with people just like you who know that you cheer more for the person who finishes last than the person who finishes first. We support and admire honest effort, plain and simple.