Did cavemen eat real foods or did they eat this stuff?
"Paleo/Zone Diet: So easy even a caveman can do it."

The "Skinny Dip" was yesterday and also marked the end of the Paleo/Zone Nutrition Challenge that we started 7 weeks ago in February (Skinny Dip was the Body Fat Truck Measurement Re-Test). Time flies when you are cutting refined and processed carbs! Click the link above for the rules as posted back in February for reference. The top male and female winner are based on biggest % change in body fat composition. After realizing the hand-held body fat analyzer we used in the gym (for those who didn't take a dunk) has a wide range of variance (some people's results were very inconsistent when compared with the dunk tank and some were right on); we decided we could not include the few who used it in the chance to win the pot. However, for the "runner-up" everyone was included since we stated the runner-up would be chosen by your coaches based on "who made the biggest physical change in appearance based on before and after photos". It just so happens the runner-up not only made the biggest physical change but lost the most weight overall! She also used the hand-held which we think under-represented her change in % body fat composition. 
Before we announce the winners, here are some stats from the past 7 weeks of our challenge.
23 started the challenge

12 saw it through to the end

Of the 12 who weighed in and measured at the start and end, the total weight lost was 105.8 lbs.

Average body fat % lost per person was 3.18% for those who used the Body Fat Truck

Average weight lost per person was 8.8 lbs

5 people lost more than 10 lbs. each in 7 weeks


Since the start of the challenge Jana has had to have her wedding dress altered twice to make it smaller 

Bonnie has participated in both of our Nutrition Challenges and been a CrossFitter since September '09 and has lost over 50 lbs! 
And the winners are…
Top male % body fat change is a 2 way tie: 
Rob S. at 3.7% (6 lbs. lost)
Jim M. at 3.7% (12.6 lbs. lost)

Top female % body fat change is:
Rona at 4.3% (10.6 lbs. lost)
Winners will split the pot and also get a paid 1 year CrossFit Journal Subscription from SRCF!
Runner-up:
Rachel who lost 14.7 lbs. 

Rachel completed Elements in February with her husband Greg and both of them signed up for the Nutrition Challenge almost right away. They switched to a hardcore Paleo/Zone diet and have been fitting in CF 2-3 times a week. She has made drastic changes in only 7 weeks in both her physical fitness level and overall appearance and Greg has lost 10 lbs. during the challenge. Both have gotten stronger and significantly fitter. We are stoked for them both! 
Rachel wins a SnoRidge CF T-Shirt and a paid visit by SRCF to the Body Fat Truck for your next test!
Congrats to our winners Rona, Rachel, Rob and Jim, as well as to everyone who entered and all who saw it through. We highly encourage you to stick with the changes you made and to think back to the Nutrition Discussion we held with Todd Widman to kick this thing off. As he said, "you train an average of 1 hour a day (or less). You have 23 hours to screw it all up!" So remember to eat right, train right, recover right and take care of yourself!
The next Box Challenge is to continue to make the nutrition changes a lifestyle habit. We will coordinate to have the Body Fat Test Truck come back in the summer.
Mad props to Fran and Kim who got their first rope climbs yesterday: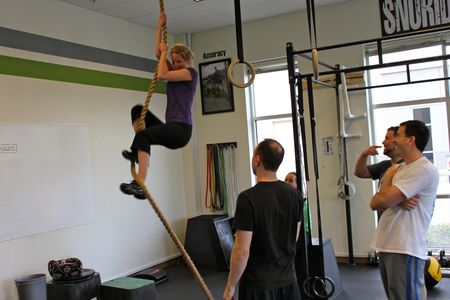 Congrats to Laura who earned her 100th WOD T Shirt this week: