As Many Rounds As Possible in 20 Minutes: 
12 Power Snatch (65#/45#) 
10 Push-ups
Results
Quote of the day: Jim M. "Did you guys find a box in NYC?" Pat "Yeah we did… but we didn't use it."
Today was a mainsite WOD that we last programmed back in November. This is a great couplet that focuses on explosive power with the snatch and taxing the chest and arms with push-ups. A word on push-ups. Overall as a box we are getting better and better. Make sure you are going deep (elbow should be below the shoulder), locking out, and staying planked. When that is not consistent then either break and rest or scale.
Pat also made up "Karen" and smashed his previous time with a box record of 6:06. I counted and scored his reps (like we all did the other day) and only 4 reps were a no go. His time just had to be seen to realize how fast this is as his first 75 reps were unbroken. After that he, Rob and I went at it with "Griff" in a fun foot race.
Pat demolishing "Karen":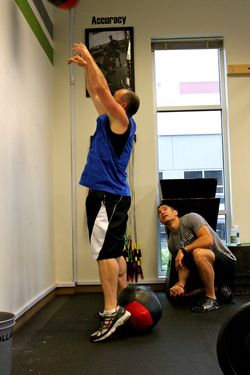 Video of the Power, Hang and Squat Snatch (Note that most of the video shows a full squat snatch):
Notes:
Congrats to Amanda for achieving her 100th WOD milestone! She earned her exclusive club T Shirt membership though plenty of sweat equity. Also welcome to Mary who just completed Elements with us this past week. We look forward to you joining everyone in some brutal fun.
Sunday WOD in the park at 0930: 
Tomorrow we are going to teach a free WOD in the park for lululemon athletica at Bellevue Square. Come and enjoy a nice outdoor WOD with Michelle, Moe and me on Sunday morning at 0930. Meet in the store a few minutes prior in the mall or you can go to the park across the street from Macy's and look for the guy with the funny grin on his face standing in the field with sandbags and PVC sticks (me).