Perform 8 intervals of  20 seconds of work with 10 seconds of rest for each exercise. This will equal a total of 32 intervals (8 pull-ups, 8 push-ups, 8 sit-ups, 8 squats):
Pull-ups
Push-ups
AbMat sit-ups
Squats
Results
Tabata: The longest 20 seconds and the fastest 10 seconds ever. 
Blame Dan and Jim, they said we haven't done this in awhile and they liked Tabata intervals.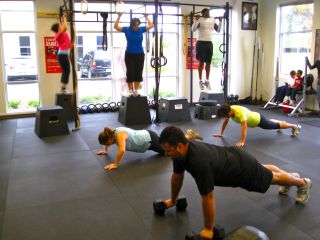 Notes:
Don't forget Saturday's 10am class will have Rowing coaching by Lucy and Rob! Come learn how to row, row, row your boat from our former competitive rowers!