Main Class:
In Teams of 2, Complete 3 Rounds of the following for time:
400m Run
50 Kettlebell Swings (53#/35#)
40 AbMat Sit-ups
30 Medicine Ball Cleans (20#/14#)
20 Burpees
10 Handstand Push-ups
* Both athletes must run together and then alternate reps for remaining exercises. Split up the reps however you wish.
Advanced RX Class:
Alternate the following exercises and reps for time:
50/40/30/20/10 Double Unders
5/4/3/2/1 Power Cleans (225#/135#) 
Results 
View this photo
View this photo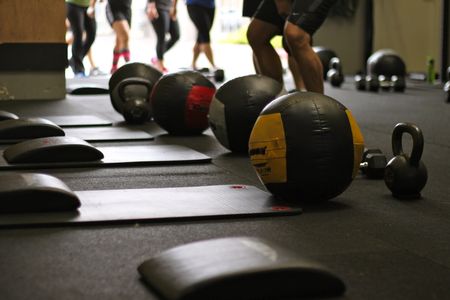 Big team class today but good fun and a lot of work. Today we said goodbye to Scott H. as he and Jill are moving out of state. We wish them all the best and I'm happy to hear they have already found a new affiliate to join with their family in OH. Jill will be in for another WOD this week. Take care and train hard!
Another "Team Week" was requested so we may have to plan that out after the Games when the weather is reliable.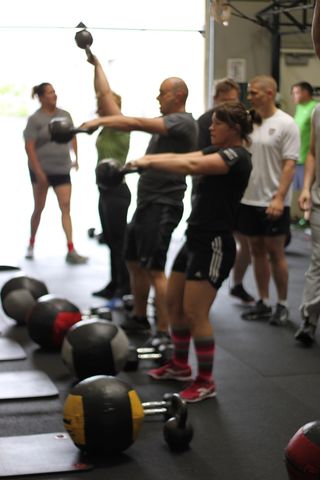 For the advanced class it was a day to get really heavy. Heavy power cleans after double-unders effected the jump and required that extra focus on reaching triple extension and pull under the bar.
No one in the gym is better on full extension and fast pull under a barbell than Sean.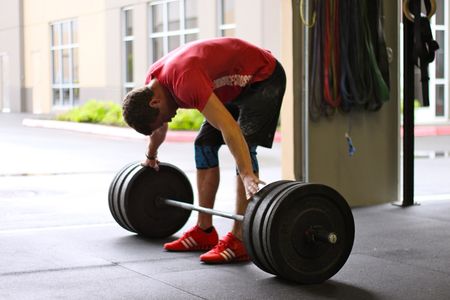 Next weekend (Saturday 6/9) is CrossFit for Hope. If you are planning to participate please register or donate. CrossFit for Hope supports research and treatment for catastrophic children's illnesses.
Sign up or contribute here.
Nutrition:
Coming this month on Amazon.com: "It Starts With Food" by Whole9
We received an advance copy of this book and I'm loving it so far. It covers in common sense language the healthy and unhealthy choices of what we eat, the Paleo diet, the science behind it, the Whole30 program, and how to make it real. If you are ready to make nutrition a priority in your life and get your health dialed in, I recommend you give this a read.