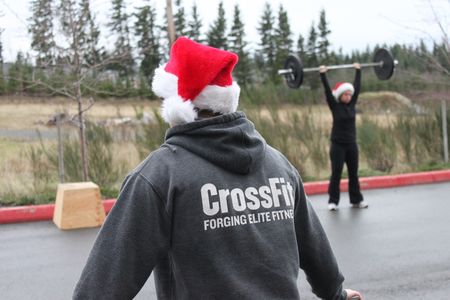 Like the song the "12 Days of Christmas", complete each exercise in ascending order then work back down, adding one exercise per round. 
Ex. On the 1st day of Christmas, my coaches gave to me, one Sumo Deadlift High Pull; on the 2nd day of Christmas my coaches gave to me, 2 Thrusters and 1 SDHP; on the 3rd day of Christmas, my coaches gave to me, 3 Push Press, 2 Thrusters, and 1 SDHP; continue with 4 Power Cleans, 3, 2, 1 etc. up the ladder and down
For Time:
1 Sumo Deadlift High Pull (75#/55#)
2 Thrusters (75#/55#)
3 Push Press (75#/55#)
4 Power Cleans (75#/55#)
5 Power Snatches (75#/55#)
6 Kettlebell Swings (53#/35#)
7 Pull-ups
8 Knees-to-Elbows
9 Box Jumps (24″/20″)
10 Double Unders
11 Burpees 
12 Overhead Walking Lunge Steps (45#/25# Plate)
Results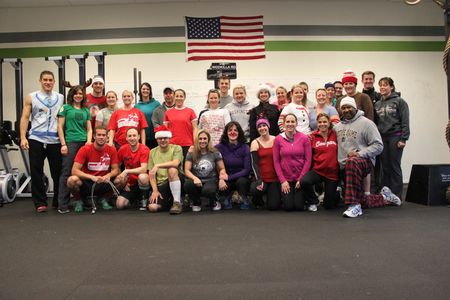 Today was a record single class turnout! We had 37 Squatches turn out for the Christmas Eve WOD which made a packed box! For all who had to wait a few waves and put up with the multi-tasking I am sorry for that, but we really focused to get people moving and through the WOD to get back to your holiday plans. I'm also stoked with the energy and community everyone showed. Seeing so many people show up with holiday attire and good cheer means we must be collectively doing something right. Good games and chest bumps go to Moe and Jeremy for running a couple waves outside in the drizzle to push more people through.
This WOD is a long one and for sure a tough workout; however from a coaching perspective what I like about it is the loads are relatively light (or you should scale it to be light) which allow you to keep moving and to learn movements through repetition. The barbell complex at first can confuse some (I admit I even messed up when I finally went even after briefing it so many times), but after several rounds it drives muscle memory and links certain movements together that can make it "click". At a minimum all of you should never ask "what's a thruster" again. As I compared this to last year's results I realized that today we did the WOD slightly different from what we ran last year (I honestly don't remember why I pulled out power snatches but my guess is due to deadlifts being easier to coach and transition to cleans). Last year in round 5 we did 5 deadlifts each time. This time we had 5 power snatches, which are tougher, slower and more technical.  We also did burpees in the 11th round and lunges in the 12th round this year. Last year they were flipped and we did lunges in the 11th and burpees only once in the 12th round. I am pretty sure doubling the burpees takes a little more time than doubling the lunges. Yay burpees!
From your coaches at SnoRidge CrossFit, we want to wish everyone and their families a very Merry Christmas and Happy Holidays and hope you are safe and warm with your loved ones. See you Monday!
 Flickr album: