Strength WOD:
Thruster
1/1/1/1/1/1/1
* Work up to 1RM (1 Rep Max)
Jim PR'ing under the eye of his coach: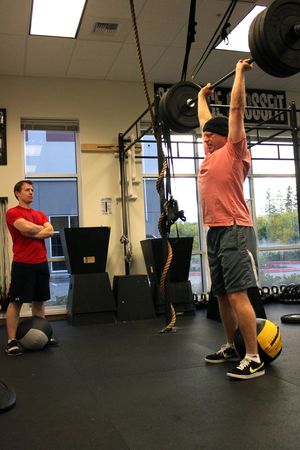 Check Out WOD Immediately After:
As Many Rounds As Possible in 10 Minutes:
10 Wall Balls (20#/14#)
10 Hollow Rocks
10 Double Unders
Hollowed Rocking: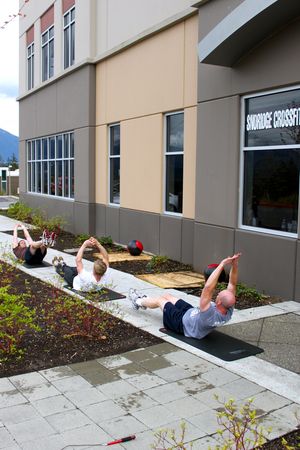 Results
View this photo
View this photo
The thruster is a challenging movement to learn. Not only do you need to combine a front squat and push press you also need to have either a good power clean or full squat clean. Until the clean improves it is likely the limiting factor to how much you can push in a thruster. The hips drive the weight and the arms finish the movement. Try not to press it up (I am guilty of that) or sneak your head under the bar (you know who you are if you do it). Get aggressive on the bar and drive it overhead coming out of the squat.
Teamwork was the theme this evening as Rona came back tonight after the morning WOD for a second shot at getting 93# overhead. Teaming with Bonnie the two pushed one another to new PR's and both hit 93# with Bonnie hitting 103#. It was fun to watch and the two threw up some weight!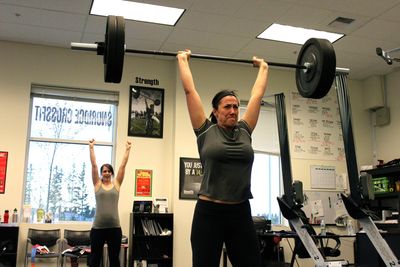 Going for 103# and celebrating the PR of 93#:
Notes:
One day left before race day! Tomorrow's WOD won't involve running, rowing or box jumps. No barbells either. You will get a choice between two wod's. Yay burpees!
CF New England Crew tackles a recent main site WOD that we will see soon [wmv] [mov] by CrossFit Again Faster