10 Rounds For Time:
15 Deadlifts (135#/95#)
15 Push-ups
Results
Deadlifting for two (Jenna CF'ing in her 2nd trimester):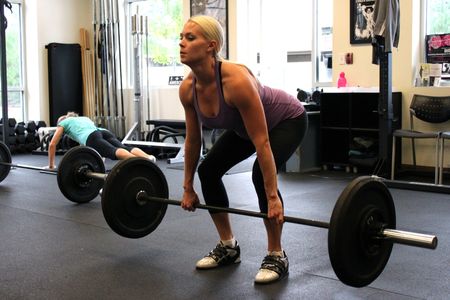 Who loves the "new and improved" push-up? Just when you thought that "hands release" push-ups were hard, now you get to try the "KStar" push-up that we learned at the Mobility cert. Yes they made the WOD harder to focus on these early. Now you know what they are. Practice these. Then go forth and crush push-ups.
Homework Assignment: Go to the Mobility WOD site. Watch one of the videos. Pick any one. Come into the box 10 minutes early. Warm-up and then do it. You will see results.
Speaking of push-ups: Cristin had a great idea to work on push-ups. Here is our next challenge that will start on October first. It will be a 30 Day Challenge.
Scaled version: Day 1 complete 1 push-up and 29 scaled push-ups. Day 2 complete 2 push-ups and 28 scaled, Day 3 complete 3 push-ups and 27 scaled and so on, continuing until Day 30.
RX Version: Complete 30 push-ups everyday for 30 days. 
Break them into sets as needed or just display random acts of awesomeness by doing all 30 at once.
Notes:
"Amazing Grace: You Can Fight Cancer" through Barbells for Boobs, CrossFit Journal [wmv] [mov]
Come fight cancer and support a great cause by doing "Grace" on 10/16 at King CrossFit! Event details on the right side of the page.
It may be an early arm pull, but the fact that Jeremy is shrugging in a clean is a victory in and of itself!
Jeremy O. cleans his way through the "Broomstick Mile":