For time:
25 Pull-ups
50 Deadlift (135#/95#)
50 Push-ups
50 Box Jumps (24″/20″)
50 Floor Wipers (135#/95#)
50 Kettlebell Clean and Jerk (35#/26#)
25 Pull-ups
Results
Feeling Spartan? This was one of the workouts the cast of the movie "300" used to look like Spartan warriors. I think it made me feel like I fought a Spartan instead. This one was epic suck. A tough chipper with some new movements. Whether you did 100 reps or 300, it was a hard workout and a good test both mentally and physically. 
Here's Spartacus and Lucy jerking and jumping:
Lyndi doing floor wipers: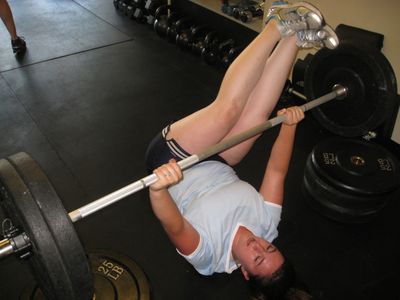 Notes:
Congratulations to Bridget who completed the women's only Danskin Triatholon this past weekend in Seattle! She completed a .5 mile swim, 12 mile bike ride, and 3.1 mile run in 1:56 besting her previous time. What a great accomplishment!