Day 2 of our "Week of the Games". This WOD was our take on WOD#1 and #2 in Aromas. Our version featured a shorter run. We did throw in the brutal heat, and the deadlift ladder afterwards with minimal rest working towards your one rep max (1RM).
For Time:
2 mile Trail Run (2 loops 1600m, plenty of small hills, and one log obstacle on the trail)
* Rest approximately 5 minutes after the run and complete:
Deadlift Ladder
5/4/3/2/1
Take 1 minute rest between rounds to load bar.
Progressively add weight to get to your 1RM. 
Results
Deb and Adriana on the trail loop: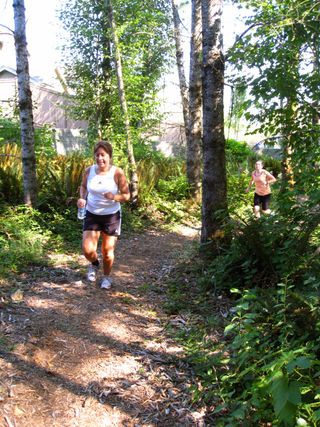 Jim on his way to 325#: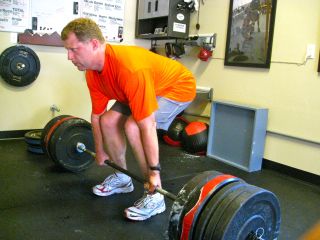 Today we mixed it up. The run was new. The trail was a challenge and capping it off with some heavy deadlifts was different. It gave us all some new perspective on the Games 7.2km trail run and 20 bar deadlift ladder workouts.
Everyone pulled a good amount of weight and kept their form. No rounded backs and strong PR's all around. Before we know it you'll all be crushing these numbers.