As Many Rounds As Possible (AMRAP) in 20 Minutes:
5 Pull-ups
10 Push-ups
15 Squats
"Cindy" is a benchmark named WOD that will make an appearance now and then. Deceivingly tough (aren't they all) this bodyweight WOD is a killer. Jim rated this a "6 out of 10" on his new personal WOD ranking system.  Ask him about his criteria.  It's a blend of how he thinks he performed as well as how tough or memorable the workout was. The higher the score the better.  I think I want to pick the exercises from the lower scoring WOD's as then I know they will be focusing on his weaknesses! 
Congrats to Bridget, Neil and Sherry who finished their Elements today.  While the learning never stops they now have the knowledge and experience with the basic foundational movements to build from.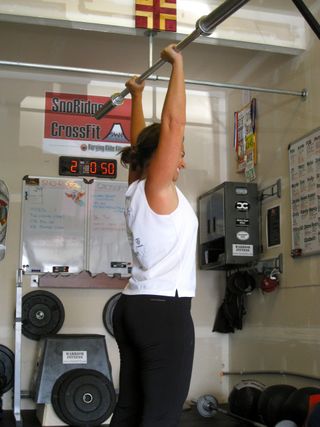 Notes:
The Snoqualmie Railroad Days 10k and 5k
Race
is August 22nd.  We are planning to get a team of us to go run, race, and represent.  There is even a 1k kids race for the little future CrossFitters in our families. Afterwards we plan to have a Beer-B-Q at our place and have the gym open, stuff for the kids to do, and the CrossFit movie "Every Second Counts" for all to watch.  Let us know if you are interested and come one come all.   Mark it on the calendar now!