For time:
21-15-9 Reps each of:
Deadlift (225#/155#)
Handstand Push-Up (Head to Floor)
Results
View this photo
View this photo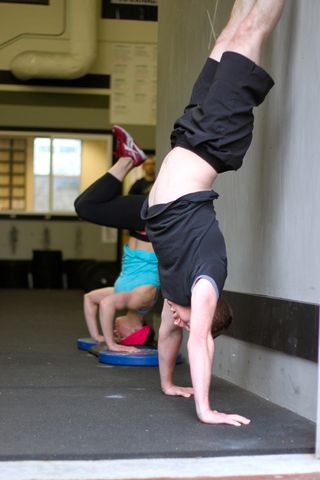 Quote of the day: "Always do what you are afraid to do." ~  Ralph Waldo Emerson
Congrats to Spencer, James P., Matt, and Teri who all made the Leaderboard today with a strict and RX "Diane". This rearranged the top times in the gym!
We also switched the scale for those not kipping or doing strict handstand push-ups on the wall to a strict kettlebell press or a dumbbell press (each arm) if a lower weight was needed. This movement emphasizes shoulder strength through the full range of motion and can be more challenging than the pike off the box. The strength needed to complete a strict push-up to touch the top of the head to the floor is the barrier to the HSPU (technically only a "headstand push-up" as the true HSPU is when the top of the head goes below the depth of the hands such as on a set of parallettes). It doesn't mean we won't do a pike push-up off the box but look for the strict press to be subbed in as a scaling more often.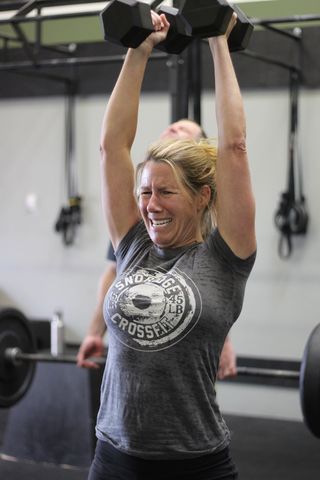 Regional Preview: Week 4, May 18-20, 2012 – video [wmv] [mov] [HD mov]
Stretch your calves! Ask the Experts: Dealing with Sore Calves and Achilles Tendon Discomfort: naturalrunningcenter.com
Nutrition:
Greg L. made this and says it's awesome. Recipe and Video: Cooking Coconut-Crusted Salmon by Michele Vieux CrossFit Journal