3 Rounds for Time:
400m Run
21 Kettlebell Swings (54# M / 35# W)
12 Pull-ups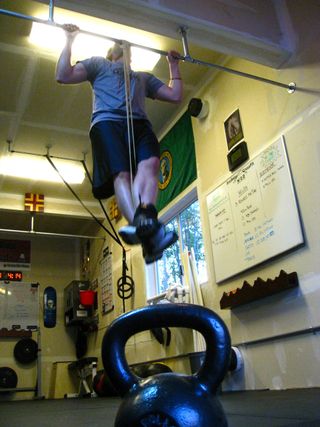 This benchmark WOD is tough.  Travis summed it up with "that was deceiving". Everyone improved today by either scaling up a kettlebell or band for pull-ups. Or both!  
Helen is a WOD that always seems to start great and by the end you are telling yourself to not let go of the kettlebell or pull-up bar as the time just speeds up.  This is one that the best of times simply are achieved by going fast and "unbroken" through all three rounds.  
Here's a
"Helen" video
from CrossFit.com of two incredible athletes showing a mind-numbing pace for Helen.  This video shows a race between one man and one woman with different strengths at play. Dutch Lowy is a well known CrossFit athlete that placed 7th in last year's CrossFit Games and Jessica Langford is an accomplished marathon runner.  Watch how strength in kettlebell swings and pull-ups takes on a fast runner and see who wins.