Strength WOD:
2-2-2-2-2
Snatch Grip Deadlift
Conditioning:
For Time: 
1000m Row
30 Hand Release Push-ups
30 Box Jumps (24″/20″)
20 Hand Release Push-ups
20 Box Jumps
10 Hand Release Push-ups
10 Box Jumps
Results
View this photo
View this photo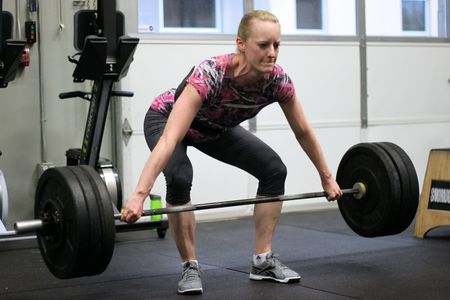 The Snatch Grip Deadlift is not a normal deadlift with a slightly wider grip. This deadlift is meant to reinforce the 1st pull off the ground of the snatch. It should have the same setup as a snatch but use a deadlift tempo. When you settle in you should set up at the bar as if you intend to snatch, meaning snatch grip, lower hips with a lower back angle and different knee position (vs. your deadlift setup). Ideally you use a hook grip and keeps those lats tight as you push through the floor through the middle of your feet. 
Snatch Grip Deadlift Video Demo by Catalyst Athletics
5 Reasons to Attend a CrossFit Regionals Event boxlifemagazine.com